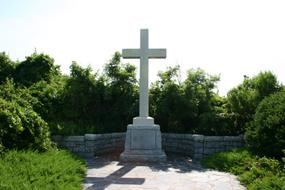 HERE AT CAPE HENRY FIRST LANDED IN AMERICA, UPON 26 APRIL 1607, THOSE ENGLISH COLONIST WHO, UPON 13 MAY 1607, ESTABLISHED AT JAMESTOWN VIRGINIA, THE FIRST PERMANENT ENGLISH SETTLEMENT IN AMERICA.
Upon this inscription rest a granite cross erected in 1935 by the National Society Daughters of the American Colonists, in memory of the wooden cross erected by the English colonists in 1607.
According to George Percy, one of the early settlers, "The nine and twentieth day we set up a Crosse at Chesupioc Bay, and named the place Cape Henry."