Cape Henry Lighthouses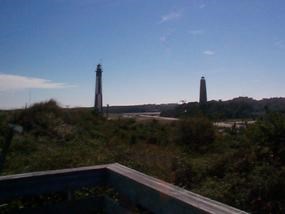 The Cape Henry lighthouse has long served to protect and guide vessels entering and leaving the Chesapeake Bay. Today two lighthouses stand at Cape Henry, guardians to the gateway of the Chesapeake Bay. They have been placed on the U.S. National Register of Historic Places and have been designated as a National Historic Landmark.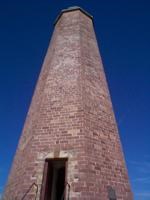 The original lighthouse was the first construction project authorized by the new United States under is fledgling Constitution. Build of stone by John McComb Jr. it was completed in October of 1792 at a cost of $17,700. During the civil war it was damaged by Confederate forces and repaired by Union forces to provide navigation services into the Chesapeake Bay. In 1881, after concerns arose about the stability of this lighthouse, a second lighthouse was built. The old Cape Henry Lighthouse remained standing acting as a daylight marker for triangulation. Today this old Cape Henry Lighthouse is owned and operated by Preservation Virginia. This lighthouse is opened to the public on a seasonal schedule. For more information about the seasonal schedule, restrictions to climb the lighthouse and fees go to http://www.apva.org/CapeHenryLighthouse/ or call (757) 422-9421.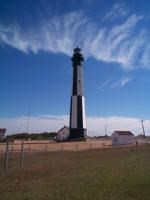 The second Cape Henry Lighthouse was completed in 1881 and sits approximately 350 feet from the first lighthouse. This lighthouse, painted black and white, is maintained and operated by the U.S. Coast Guard, has been automated and remains in service today. It is not open to the public.
The lighthouses are located at 583 Atlantic Ave, Fort Story, Virginia 23459. Fort Story, a military base operated by the U.S. Navy, lies within the city of Virginia Beach. Visitors should be aware that you must enter through Fort Story's security gates. All visitors over the age of 16 will be required to present valid identification. This ID should be a student or state or Federal issued ID card. Vehicles may be subject to search. We respect the military's interest in force protection and thank you in advance for your cooperation and understanding.
Last updated: September 4, 2022