News Release
Search for Enrique Roman-Martinez suspended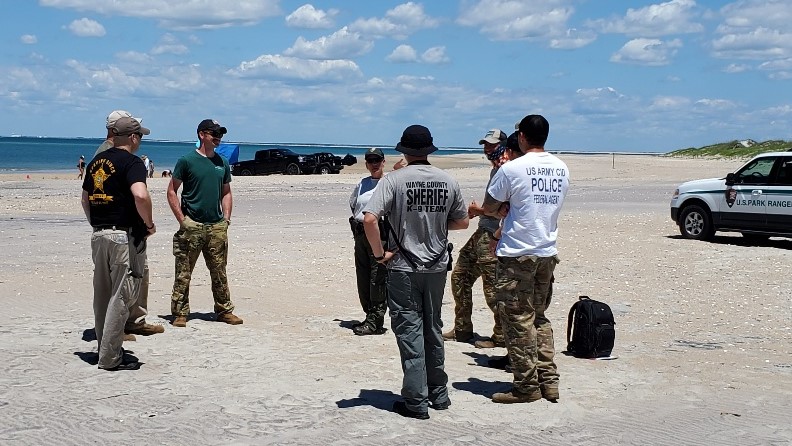 News Release Date:
June 2, 2020
Contact: BG Horvat, 252-838-8906
HARKERS ISLAND, NC – – On Saturday, May 23, 2020, active search efforts began at South Core Banks, around mile marker 46, of Cape Lookout National Seashore for Fort Bragg Soldier, SPC Enrique Roman-Martinez, 21. He had been reported missing by his friends that evening after not being seen at his camp throughout the day.
Over a ten-day period, ground and aerial searchers covered South Core Banks, Shackleford Banks, and the immediate ocean and sound areas surrounding Roman-Martinez's camp.
Very few clues have been discovered during the search efforts. Depending on the search area and day, team members encountered rainy, windy, and rough sea conditions.
Over the weekend, Park Rangers located human remains that had washed up on Shackelford Banks. The remains were turned over to the medical examiner's office and are awaiting their determination and identification.
Also assisting Cape Lookout National Seashore Rangers has been the Army Criminal Investigation Command (CID), the United States Coast Guard (USCG), North Carolina Marine Patrol, Wayne County Sheriff's Office Canine Team, and the Carteret County Sheriff's Office.
In the absence of additional clues, active search operations have been suspended. Limited search activities may occur as new information or evidence presents itself.
Enrique Roman-Martinez is still a missing person and our investigation will continue in hopes of gaining further information of his whereabouts on the day of his disappearance. Park Rangers would like to hear from anyone who may have had contact with Enrique Roman-Martinez. Please call the Carteret County Dispatch office at (252) 726-1911.