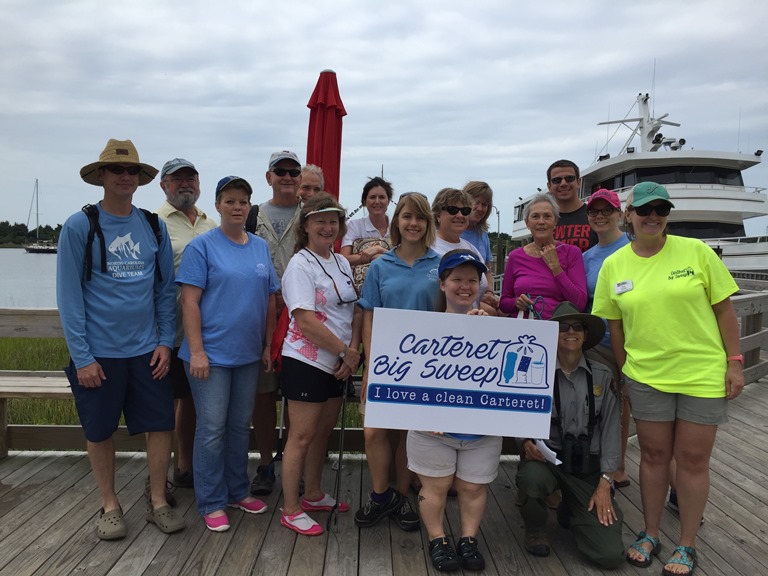 News Release Date:
June 9, 2017
Contact: B.G. Horvat, 252-728-2250, ext. 3014
BEAUFORT, NC –
Carteret Big Sweep assisted Cape Lookout National Seashore with a beach cleanup on the western end of Shackleford Banks on May 31st. The island had heavy use over the Memorial Day weekend, which added to debris that washed ashore. Some of the more notable items removed included glass, canopy frames, an electric blanket, a tent, a grill, and a used self-contained toilet. Approximately 700 pounds of trash was removed from the island during this clean up.  
Island Express Ferry Services donated rides for Carteret Big Sweep volunteers, including a large turnout of staff and volunteers from the NC Aquarium at Pine Knoll Shores. Sea Tow also volunteered their time and services for this event to transport the huge pile of trash from the island back to the mainland. Without park partners like Island Express Ferry Services and Sea Tow, community beach clean ups would be challenging.  
Volunteers compiled data of all the items collected during the cleanup, which was sent to the Ocean Conservancy for research.  Data is also being kept at the county level in the ongoing effort to win the fight against marine debris and litter.  "These data sheets are a vital part of the Big Sweep project; they are the record that gives us a picture of what is out there when it comes to marine debris and litter," says Dee Smith of North Carolina State University's Big Sweep.  
Ocean trash harms marine life, and threatens the livelihoods of people who depend on the ocean for fishing or tourism, along with the health and safety of local citizens.  Carteret County and Cape Lookout National Seashore continually strive to be trash-free communities, which not only protects the safety of people and wildlife, but also encourages visitors to return to the pristine shores of the Crystal Coast.   
About Carteret Big Sweep:  
Carteret Big Sweep does environmental education for the community and schools, teaching both youth and adults the importance of a trash free environment. There are clean ups all year long that cover the entire county. If you are interested in hosting or participating a clean up in Carteret County contact Dee Smith at dee_edwards-smith@ncsu.edu or 252-222-6365 to secure a location and date. Organizers are advised to contact Carteret Big Sweep to register their clean up so their data can be recorded and duplicate cleanup locations can be avoided.  
Dee Smith
Carteret Big Sweep Coordinator
252-222-6365
dee_edwards-smith@ncsu.edu