Sea Turtle Survey by NOAA and Duke University Ongoing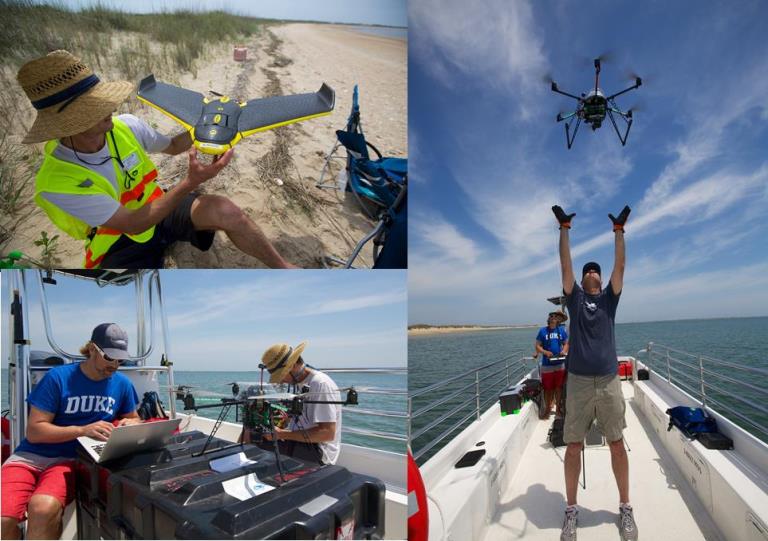 News Release Date:
June 7, 2016
Contact: B.G. Horvat, 252-728-2250, ext. 3014
HARKERS ISLAND, NC –Cape Lookout National Seashore is pleased to announce that the National Oceanic and Atmospheric Administration's National Marine Fisheries Service (NMFS) and Duke University Marine Laboratory are monitoring sea turtles in the waters of the park through November 2016. The research area includes Cape Lookout Bight and Back and Core Sounds.
Turtle monitoring in this area is conducted under a research permit granted to NMFS and Duke by the National Park Service. Cape Lookout Bight is the site of an unusually dense spring aggregation of sea turtles, making research at this time and place particularly valuable. Monitoring methods will include capture-mark-recapture, telemetry, and use of small Unmanned Aircraft Systems (small UAS) to collect high-resolution aerial images. According to Dr. Larisa Avens, the NMFS biologist coordinating the project, "This work will not only help us better understand the sea turtle populations that use Cape Lookout Bight each spring, but also take advantage of the large numbers of turtles in such a small area to test new methods, like UAS surveys, for doing sea turtle research."
"This is a great opportunity for a number of organizations to work together and gather important data on sea turtles," said Superintendent Patrick Kenney. "Visitors and area boaters might see the research vessels or the small UAS in the area this spring and summer. It's important to understand that small UAS or drone use is prohibited at all National Park units except in special cases like this approved research permit."
Other project partners include the North Carolina Wildlife Resources Commission, the North Carolina State University College of Veterinary Medicine and Center for Marine Science and Technology, the North Carolina Maritime Museum in Beaufort, and volunteers from the North Carolina Aquarium at Pine Knoll Shores, UNC-Wilmington, Maryland Department of Natural Resources, Marine Corps Base Camp Lejeune, and the National Weather Service.
Last updated: June 7, 2016