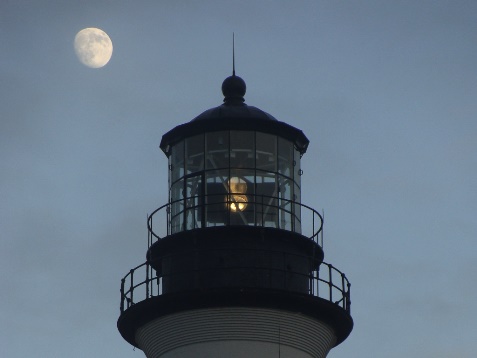 News Release Date:
June 2, 2014
Contact: Wouter Ketel, 252-728-2250 ext. 3014
HARKERS ISLAND, NC – Superintendent Patrick M. Kenney is pleased to announce the addition of Moonrise Tours of the Cape Lookout Lighthouse. These guided climbing tours will be offered on eight dates in June, July, and August. Bring your own flashlight and experience the lighthouse as the keepers did, in the dark of night. Hear stories of the light keepers and watch the moon as it rises over the Atlantic Ocean and reflects off the waters of Core Sound.
Four 30-minute tours will be offered on each date. There is a limit of 10 tickets for each tour group. Tours begin at 8:00 PM, 8:15 PM, 8:30 PM, and 8:45 PM on each date. There will be a one ferry trip on each date for all the climbs on that night; the ferry will depart Harkers Island at 7:30 PM and return at about 10:00 PM. During the climb the Keepers Quarters Museum will be open.
Moonrise Lighthouse Climb Dates
Friday, June 13
Saturday, June 14
Thursday, July 10
Friday, July 11
Saturday, July 12
Friday, August 8
Saturday, August 9
Sunday, August 10
Tickets for the Moonrise Tours must be purchased in advance and are non-refundable unless the trip is cancelled due to the weather. The cost for the program is $23 for adults, $12 for children (11 and under), $19 for seniors (62 and older), and $19 for Access Pass holders (for the Moonrise Tours the ferry cost is included in the price of the program.)
Reservations for the Moonrise Tours can be made Monday through Friday, between 9:00 AM and 4:00 PM, beginning Monday, June 2, 2014. To make a reservation, call 252-728-2250, extension 3020.
Children joining the climb must be at least 44-inches tall and must climb the steps on their own—they cannot be lifted or carried. Children 12 years of age and younger must be accompanied by an adult (16 or older). Footwear is required as well. For more information about climbing the lighthouse go to: https://www.nps.gov/calo/planyourvisit/lighthouse-climbs.htm.