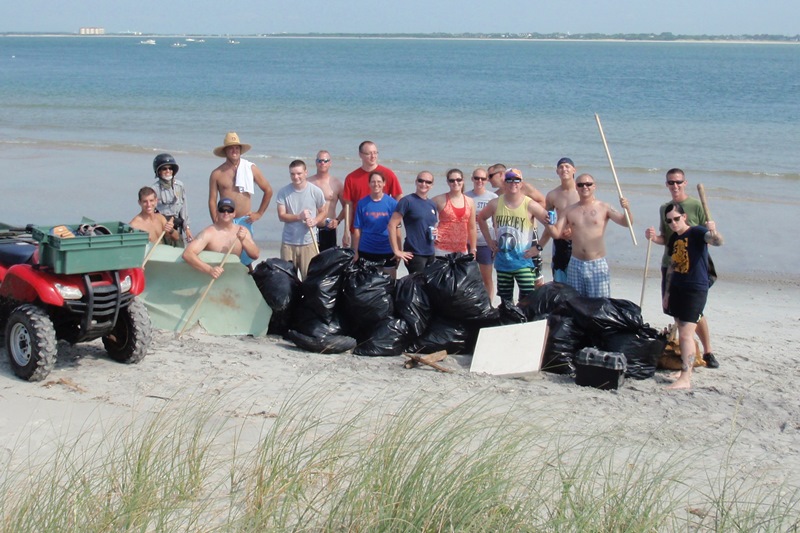 News Release Date:
May 20, 2014
Contact: Wouter Ketel, 252-728-2250 ext. 3014
Contact: Reservations, 252-728-2250 ext.0
HARKERS ISLAND, NC –– Help protect the park's undeveloped beaches and the creatures that live there by joining the staff of Cape Lookout National Seashore on Saturday, May 31 for a beach clean-up event on the west end of Shackleford Banks.
Shackleford Banks is the southernmost island in Cape Lookout National Seashore. Because it faces the prevailing Northeasterly and Southwesterly winds, trash from both the ocean and sound washes ashore and into the interior. The island is also a very popular site for boaters and campers. Help us preserve the natural beauty of Shackleford and make it safer by picking up trash.
Ferry passage will be provided for a limited number of volunteers. In order to secure a seat, volunteers must sign up by calling the park headquarters on Harkers Island at (252) 728-2250, extension "0" before noon on Friday, May 30. A waiting list will be kept. Please cancel with the park if your plans change so someone can have your seat.
Volunteers and park staff will meet at the Beaufort Ferry Gateway and Visitor Information Center, 701 Front Street, Beaufort, NC, 28516, at 12:45 PM and depart Beaufort at 1:00 PM. The ferry will return from Shackleford at 4:30 PM, landing in Beaufort by 5:00 PM.
Volunteers will be grouped in teams for cleaning up specific sections of the beach and adjacent inland areas. Trash bags will be provided. Participants are asked to wear appropriate shoes and work gloves and to be prepared to walk over uneven surfaces. Bring plenty of water and snacks in a backpack that you will carry with you. Tetanus shots should be up to date as there may be rusted metal trash which has washed ashore. Hats and sunscreen are also recommended. If you have access to a long-handled grabber, you might want to bring it because trash gets washed into the shrubs.
Remember to bring:
Protective work gloves
Closed shoes, preferably leather sneakers or boots
Water and snacks (in a bag you can carry with you)
Sunscreen and/or shade hat
Bug spray
Long-handled grabber if you have one.
In case of rain or high winds, the trash pick-up will be rescheduled for the morning of Saturday, June 7. The weather cancellation decision will be made by noon on May 30.