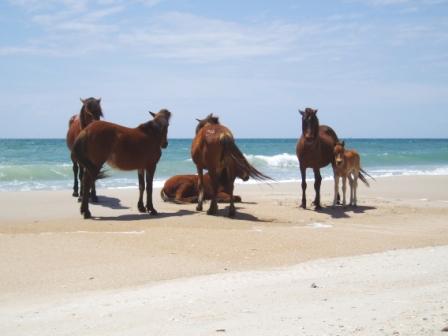 News Release Date:
April 22, 2013
Harkers Island, N.C. -- Cape Lookout National Seashore Superintendent Pat Kenney, Foundation for Shackleford Horses president Carolyn Mason, and Rachel Carson Reserve site manager Paula Gillikin announce that spring has arrived on the islands populated by wild horses. They caution that the horses are recovering from the winter and should be given their space.
The horses at Cape Lookout National Seashore (on Shackleford Banks) and the Rachel Carson Reserve (including Carrot Island) have come through the winter and are eagerly cropping the emerging shoots of new green grass. Spring brings increased nutrient needs with breeding and foaling seasons. While the horses are busy making up for a winter of dry, brown grass, it's important that they be left alone. Visitors can watch from a distance and still enjoy the horses. This way, the horses can spend all the time they need grazing in their chosen habitat.
Springtime brings increased activity as stallions work harder to gather and keep mares in their social or "harem" groups. Stallions can be seen herding their mares at a walk or a full-out run. Stallion fights can break out at any time. When one stallion feels another's harem is too close, ground-covering chases with squealing, striking, and rearing can result. Observing these behaviors among horses is breath-taking but can be dangerous to onlookers. Visitors are advised to keep their distance and use binoculars to best enjoy the horses' natural behaviors. "When watching wild horses, visitors are safest when they can see all the horses in one glance," reminds Paula Gillikin. Getting between two groups of horses - whether its two parts of the same harem or two different harems - puts people at risk.
"This is a unique opportunity - one of the few places in the world - where people can see wild horses set against a backdrop of ocean breakers and hear the sea birds call," comments Carolyn Mason. "To be sure this opportunity is always available; the horses must be respected and protected."
The Seashore and Reserve welcome spring tourists while "asking all visitors to help keep our wild horses and themselves safe" states Pat Kenney. At Cape Lookout, feeding, touching, teasing, frightening, or intentionally disturbing wildlife, including horses, is a violation of federal regulations, and can result in fines. There are also legal protections for the horses that live on the Rachel Carson Reserve. "Visitors to the Reserve are required by local ordinance to maintain a distance of at least 50 feet from the horses," remarks Paula Gillikin.
Visitors with concerns about someone disturbing wildlife may call the Seashore at (252) 728-2250 ext.4444. The Reserve can be reached at (252) 838-0886 during the day and (252) 726-1911 after business hours.
For more information on the horses, please contact Cape Lookout National Seashore at (252) 728-2250 (extension 3017), the Foundation for Shackleford Horses at (252) 728-6308 or (252) 241-5222, or the Rachel Carson Reserve at (252) 838-0886.
To the press: a photo is available with this press release. Please credit the North Carolina Coastal Reserve (Rachel Carson Reserve).