Family Fun Days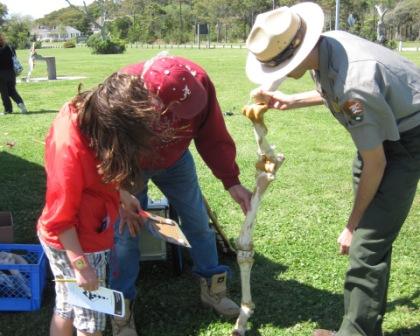 News Release Date:
March 9, 2012
Contact: Wouter Ketel, 252-728-2250 ext. 3005
HARKERS ISLAND, NC - Three Family Fun Days will take place this year at the Harkers Island Visitor Center of Cape Lookout National Seashore. These programs are designed to promote "get-outdoors" activities for children and their families. Scouts, home-school groups and other organizations are encouraged to join the fun and are asked to call ahead to help us plan for your group.
According to Superintendent Pat Kenney, "These are great opportunities for a family to spend some time together and experience one of your National Parks."Cape Lookout National Seashore is one of 397 park that make up the National Park system.
For more information on these programs and other program offerings, call the Harkers Island Visitor Center at 252-728-2250.
Junior Ranger Day:
April 21, 2012 from 12:00 p.m. to 4:00 p.m.
Experience the seashore through Ranger led programs and earn limited edition Junior Ranger Day items such as patches, badges, and certificates as you learn about the plants, animals, and people who have weathered the storms of Cape Lookout. Activities will include kite flying, surf rescue drills, exploring ranger vehicles, walking a nature trail and making seashore crafts.
Take Your Parent Outside Day:
July 21, 2012 from 12:00 p.m. to 4:00 p.m.
Come ready to participate and learn some fun outdoor family oriented activities. You can learn how to set up an environmentally friendly campsite, fish with poles and nets, go on a nature hike, and complete a GPS scavenger hunt. The entire family is welcome.
Critters of the Night:
October 27, 2012 from 5:00 p.m. to 9:00 p.m.
When the sun sets and many creatures are going to sleep, others are just waking up. Discover some of the mysterious animals which make the park come alive in the dark of the night. Live animals will be on display and others may be seen during this night hike. Critter named constellations will also be viewed on a screen and in the air. The evening will end with a fireside chat.
Last updated: April 14, 2015