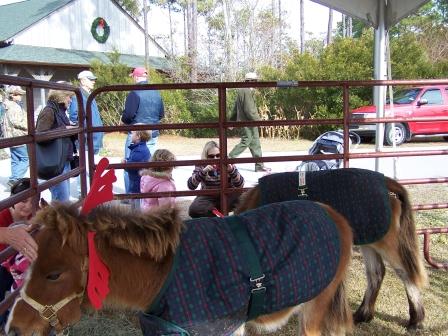 News Release Date:
November 28, 2011
Contact: Wouter Ketel, 252-728-2250 ext. 3005
Contact: Sue Stuska, 252-728-2250 ext. 3007
Harkers Island, NC -- Cape Lookout National Seashore Superintendent Pat Kenney is pleased to announce that adoptable Shackleford horses will be present at the Core Sound Waterfowl Museum and Heritage Center for Waterfowl Weekend on December 3 and 4.

Running wild on a barrier island in the Atlantic, Shackleford horses represent an enchanting piece of history. Their herd members hold a genetic link to Colonial Spanish horses, and they are recognized by the Horse of the America's Registry. They are part of the cultural history of the Outer Banks where they have lived for centuries. The horses are monitored and protected by the park and the Foundation for Shackleford Horses, Inc.

Selected wild-born young horses are removed for population control. These youngsters tame well with time and patience. These pony-sized equines are generally recognized by adoptive owners as being exceptionally intelligent. They are kept as companions for other horses and for people. They can be trained for driving or riding. At least six horses are now available for loving, forever homes.

The Foundation for Shackleford Horses, Inc. handles adoptions. Adoption-ready horses will be on display at the Core Sound Waterfowl Museum and Heritage Center on Harkers Island during Waterfowl Weekend Saturday and Sunday, December 3 and 4, 2011. Waterfowl Weekend and the Core Sound Decoy Festival at the Harkers Island Elementary School are held on the same weekend and there is a free shuttle between the venues. Exhibits open at 10 a.m. each day. Foundation members will be available to answer questions and distribute adoption applications. Adoptions are handled on a first-come basis. An adoption fee is charged and there are facility requirements.

For more information please contact the Foundation at (252) 241-5222 or (252) 728-7111.