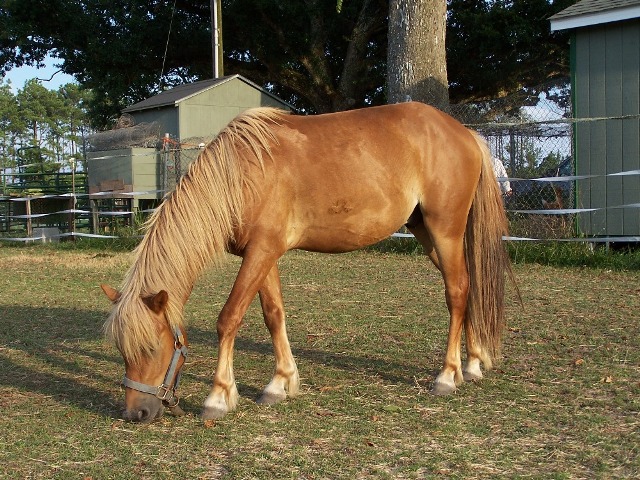 News Release Date:
March 15, 2011
Contact: Wouter Ketel, 252-728-2250
Harkers Island, NC. Cape Lookout National Seashore Acting Superintendent Mike Tranel announces that six relocated Shackleford horses are seeking loving, permanent homes on the mainland.
Still running wild on a barrier island in the Atlantic, Banker horses represent an enchanting piece of history. Their herd members hold a genetic link to Colonial Spanish horses, and they are recognized by the Horse of the America's Registry. They are part of the cultural history of the Outer Banks where they have lived for centuries.
Born wild and removed for population control, these youngsters tame well with time and patience, and are generally recognized by adoptive owners as being exceptionally intelligent. Shackleford horses grow to 11 to 13 hands (4 inches per hand).  They are kept as companions for other horses and for people. They can be trained for driving or riding; Hiawathka, removed in 2007 at one year old, is being started under saddle by adoptive owner Heather Beveridge in Raleigh, NC. 
The Foundation for Shackleford Horses, Inc. handles adoptions. Available now are three geldings born in 2008: the calm, curious Adagio; the nice, patient Bolero; and the friendly, calm Disco. Soprano is a quiet, reserved, gelding of 2007. Two 2008 fillies are available: the calm, sweet Salsa and the nosey, bright Samba. The current candidates for adoption wear halters and do lead.
Adoptions are handled on a first-come basis.  An adoption fee is charged and there are facility requirements.
For more information and/or an adoption application contact Anita Kimball at (252) 241-5222 or, after 6:00 p.m., Joy Lawrence at (252) 728-7111. To make an appointment to see the horses, contact Anita Kimball. In Florida, contact Bob Cubbage at (352) 817-3576.