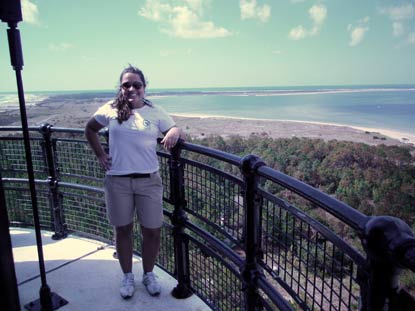 News Release Date:
September 23, 2011
Contact: Wouter Ketel, 252-728-2250 ext. 3005
Harkers Island, North Carolina -- In today's economy, hands-on internships can make a real difference for young professionals – and those same young people can make a real difference through national service.That is why Jessica Vartanian, an intern with the Student Conservation Association (SCA), has arrived at Cape Lookout National Seashoreto assist with the Interpretation division which includes the visitor center operations, visitor education, lighthouse climbing guide, and resource conservation.
Ms. Vartanian, 24 years old, is one of more than 4,200 SCA members helping to protect and restore America's public lands this year.The SCA is the only national organization that develops tomorrow's conservation leaders by providing high school and college students with conservation service opportunities in all 50 states, from urban communities to national parks and forests.More than 50,000 young people have served with the SCA since 1957 and, as needs outpace budgets, the efforts of SCA members are more important than ever.
During Jessica's time at Cape Lookout National Seashore, she hopes to grow professionally, learning from Cape Lookout National Seashore, learning the art of Interpretation, and understanding the history of the National Park Service.She graduated from Eckerd College in May of 2010 with a Major in Environmental Studies and Minored in Anthropology and Art.She hopes to incorporate public speaking and environmental education into her future career. You can follow her experience at the Cape Lookout National Seashore on-line through the webpage: http://brianjessnps.tumblr.com.
SCA members hone a "conservation ethic" through their service, benefiting of both the land and the individual.SCA experience leads a majority of members to become lifelong stewards and 60% of SCA interns go on to lead successful careers in the conservation field.
The SCA is a nationwide conservation force of college and high school aged members who serve America's parks, forests, refuges, seashores, and communities. For more than 50 years, the SCA's active, hands-on practice of conservation service has helped to develop a new generation of conservation leaders, to inspire lifelong stewardship, and to save the planet. The SCA is a non-profit headquartered in Charlestown, NH, with regional offices in Washington D.C., Oakland, Pittsburgh, and Seattle.For more, log on to http://www.thesca.org.