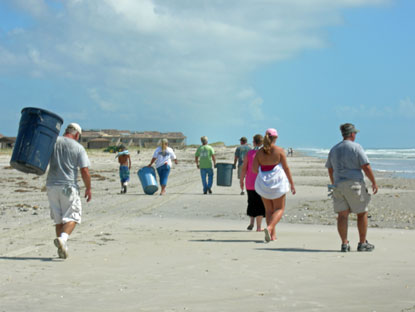 News Release Date:
September 5, 2011
Contact: Jean Schaeppi, 252-728-2250
Contact: Carol McBryant, 252-728-2250
Harkers Island, NC-Members of Cape Lookout Mobile Sportfishermen (CLMS) provided a half day of volunteer work at Long Point Cabin Camp area to aid in Hurricane Irene recovery at Cape Lookout National Seashore. Many of the members have a long history with North Core Island stating, "It is our favorite spot in the world." They assisted in picking up debris, sweeping cabins and digging out picnic tables buried under three feet of sand. Superintendent Pat Kenney stated, "The project was a win-win, the park received much needed assistance and the Cape Lookout Mobile Sportfishermen were able to give back to an area they love." Thanks also are extended to Morris Marina and Ferry Service who provided free transportation to the volunteers.
The seashore has a history of providing volunteer opportunities ranging from beach clean-up to caretaking at Cape Lookout Lighthouse area. While the work required for hurricane recovery is being undertaken by Seashore and National Park Service staff from across the country, volunteer opportunities always exist. For more information see https://www.nps.gov/calo/supportyourpark/volunteer.htm or call 1-252-728-2250 ext. 3008.
The National Park Service staff will continue to post updates about reopening of park areas and activities on the park website at www.nps.gov/calo and via Twitter at twitter.com/CapeLookoutNPS.