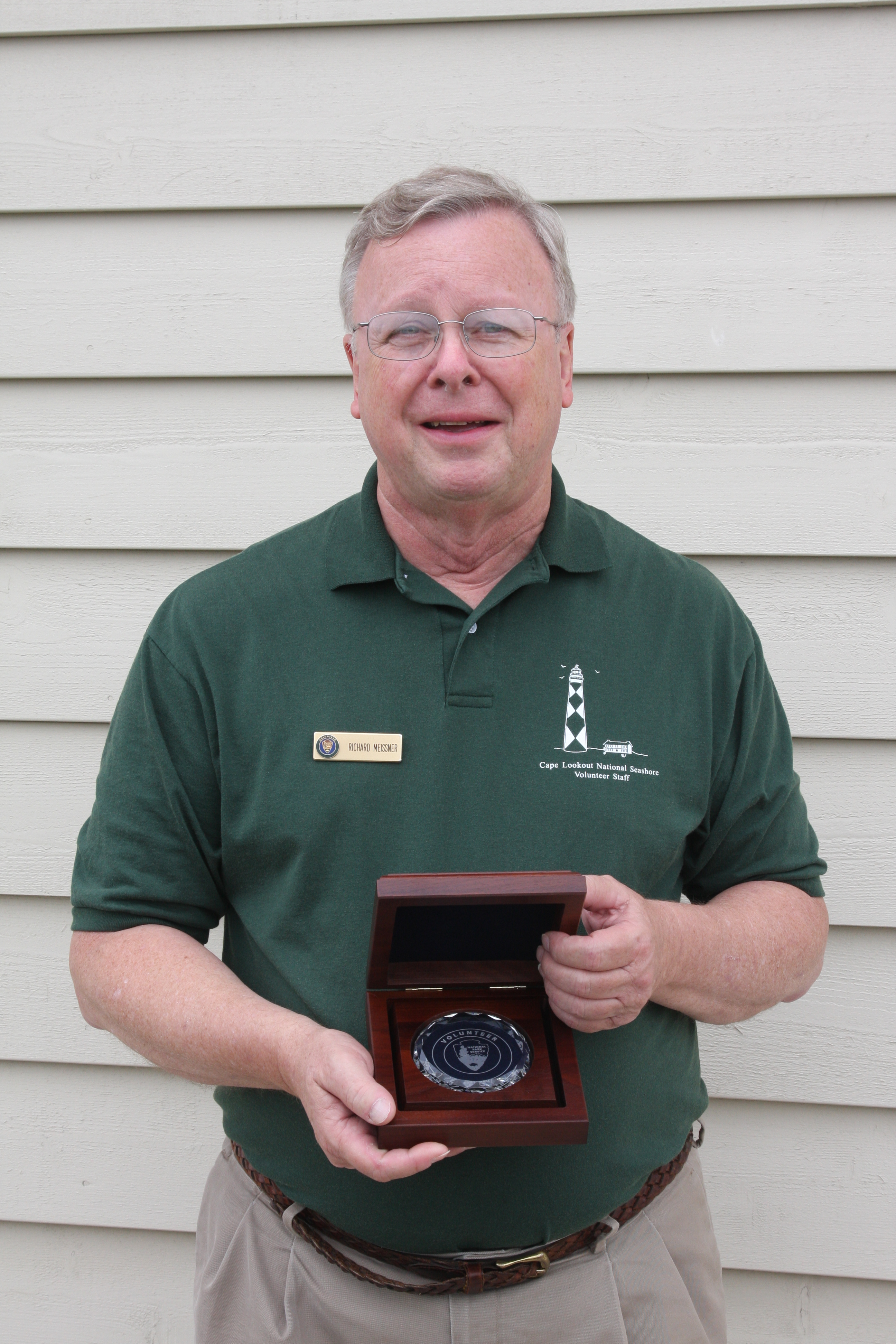 News Release Date:
May 19, 2010
Contact: Wouter Ketel, (252) 728-2250 Ext. 3005
Harkers Island, NC -- Superintendent Russel J. Wilson is pleased to announce that Cape Lookout National Seashore's Volunteer Coordinator, Richard Meissner, received the 2009 George and Helen Hartzog Award for Outstanding Volunteer Service, Enduring Service Category.
Mr. Meissner has been a volunteer at the park since 1997, becoming Volunteer Coordinator in 1999.  After retiring from thirty years as high school English and Theatre Arts teacher at Asheboro High School, he moved from Asheboro to Harkers Island. His primary responsibilities as Volunteer Coordinator are recruiting and scheduling volunteers to work at six stations in the park, including the Cape Lookout Lighthouse, historic Portsmouth Village, two cabin camps, and the Harkers Island Visitor Center. He also portrays a historic uniformed Lighthouse Keeper at special events. He volunteers with other groups, including The Friends of Portsmouth Island, The Outer Banks Lighthouse Society, the Core Sound Waterfowl Museum and Heritage Center, and Carteret Catch.
"Richard's professionalism and love of the park have had a huge impact on the volunteer program. Not only does he recruit and schedule volunteers, he supports them. The VIP program has flourished under his care and has allowed us to expand park offerings for visitors," said Superintendent Russ Wilson.
Mr. Meissner, accompanied by Park Superintended Russ Wilson, Chief of Interpretation Wouter Ketel, and VIPs Dallas and Marjorie Spruill, received his award on May 13 at a ceremony at the historic Willard International Hotel in Washington, DC. Five national awards were presented, including Mr. Meissner's Enduring Service award.
The annual awards, now in their eighth year, are named for the late George B. Hartzog, Jr., Director of the National Park Service from 1964 to 1972. Hartzog created the Volunteers-In-Parks (VIP) Program in 1970. In 2009, the National Park Service's VIP program engaged 196,000 volunteers. These men and women—VIPs in the popular and NPS senses of the term—contributed 5.9 million hours of service and the equivalent of $119.5 million worth of work to the National Park Service. At Cape Lookout National Seashore in 2009, 95 VIPs contributed over $338,000 in work.