Places
Cape Lookout Lighthouse Area

This "diamond" patterned tower that stands today was first lit on November 1, 1859 and remains an active navigational aid. It was the second lighthouse built to warn mariners away from the deadly Lookout Shoals.
Directly north of the lighthouse, is the 1873 keeper's quarters which now houses exhibits on the natural and cultural history of the islands. There is a seasonal visitor center with restrooms along the boardwalk, between the passenger ferry dock and the lighthouse. The summer kitchen and one of the fuel sheds also stand in this area, but are not open to the public.
More information can be found in the light station pages, including the lighthouse timeline. The lighthouse is open for regular climbing during the summer: learn more on the lighthouse climbing page.
Historic Villages
Cape Lookout National Seashore protects the sites of historic villages and communities.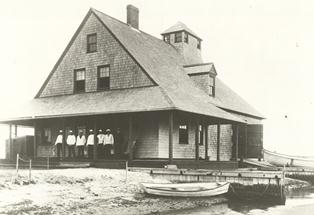 Portsmouth Village Historic District--on North Core Banks across the inlet from Ocracoke--was once a lightering port, where the cargo from heavy seafaring ships was unloaded onto smaller ships which could navigate the shallow waters of the sound. Learn more about Portsmouth Village and the first hospital building in North Carolina in the following pages.
The Cape Lookout Village Historic District covers the area from the lighthouse down towards the point of the cape and includes a relocated keeper's quarters, an historic Coast Guard station, a Life-Saving station and boathouse, fishing cottages, and several other buildings.
More information on the park's history and culture can be found in the park brochures.