Videos & Other Multimedia Presentations
99 Ways to #FindYourPark featuring Wool E. Mammoth at Cape Krusenstern National Monument. Created by SCA/AmeriCorps interns Julia Schock & Macy Kenworthy.

Duration:

2 minutes, 47 seconds
Muskox are wild animals that have always been valued by people. Understanding their behavior can help humans coexist peacefully today and rediscover a lost icon of the arctic.

Duration:

4 minutes, 31 seconds
Along the shores of the Chukchi Sea, local Inupiaq Eskimos pick beach grass to weave into baskets. These baskets are primarily tools used to hold dried food, but they are also beautiful pieces of art. Learn about this traditional Inupiaq craft and how the baskets are made.

Duration:

4 minutes, 1 second
Ever wonder how a grass basket is made? Master craftswoman Kathy Ward of Kotzebue, Alaska demonstrates how she creates her baskets.

Duration:

3 minutes, 11 seconds
Cultural artifacts of interest to local people are being uncovered by all the time by WEAR archaeologists, but are threatened by coastal erosion due to climate change.

Duration:

2 minutes, 9 seconds
Junior Rangers of Cape Krusenstern National Monument
Even though it's remote, Cape Krusenstern National Monument has a thriving Junior Ranger program, primarily made up of kids from the local Eskimo village of Kotzebue. Join us for a glimpse of some of our many programs.
Learn how junior rangers in Kotzebue, Alaska are able to learn about the inspiring and beautiful parks around northwest Alaska, even when they're unable to physically visit them.

Duration:

4 minutes, 14 seconds
The National Park Service in Kotzebue, Alaska started a new and unique program where the rangers go out into the local Eskimo community looking for kids to talk with and educate. They take the park's pickup truck and try to find the kids where they are out playing. Each week the rangers pick a different topic relating to the parklands and bring along props and games to help illustrate the lesson. Please join us for an evening with the Roving Rangers!

Duration:

9 minutes, 41 seconds
Every summer, the National Park Service in Kotzebue, Alaska puts on Camp Willow, a two-day overnight camp for local 10-15 year-olds. The kids get a chance to explore nature and learn what it's like to be a park ranger and a scientist. Join us for a look at the 2015 Camp Willow!

Duration:

5 minutes, 58 seconds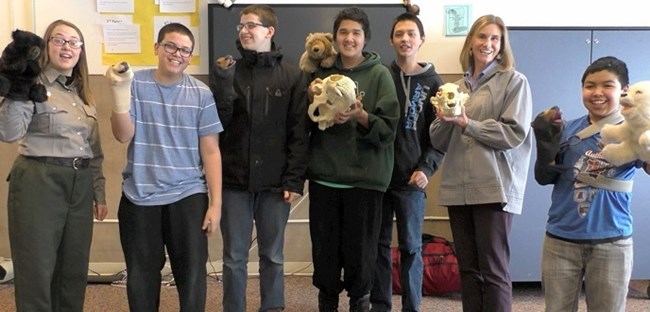 The National Park Service worked with students from the Photojournalism Club at Kotzebue Middle High School in Kotzebue, Alaska, to create a weekly news report. These videos cover a wide range of topics such as natural resources, subsistence, cultural resources, wildlife, safety in the wilderness, career exploration, and more. Download the videos and show them to your classroom!
Last updated: September 19, 2018