Defense Strategy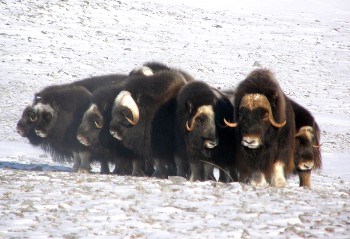 Defense
Muskox form defensive lines or circles in response to predators. If only one predator is present, muskoxen form a defensive line. Adults and offspring form a line facing the threat. If there are many predators, muskoxen form a defensive circle. Adults stand shoulder to shoulder facing the threat, with the young inside the circle.

Both sexes have horns, which they point towards the threat. Bull's horns join in a solid mass across the forehead. In contrast, cow's horns are much smaller with a patch of fur between them on the forehead.

This behavior allows the group to stand its ground and fight off threats rather than expend more energy by running away.
Predators
Wolves are the natural predator of muskoxen; however, some brown bears have learned how to hunt muskox successfully.
Last updated: November 5, 2018