Smith Maps
Captain John Smith created the first detailed map of the Chesapeake Region. His masterpiece map of Virginia, published in 1612, remained in active use for seven decades and opened this part of North American to European exploration, settlement, and trade. The geographical accuracy is astounding given that Smith traveled about 2,500 miles in a series of short expeditions and had only primitive mapmaking tools to work with.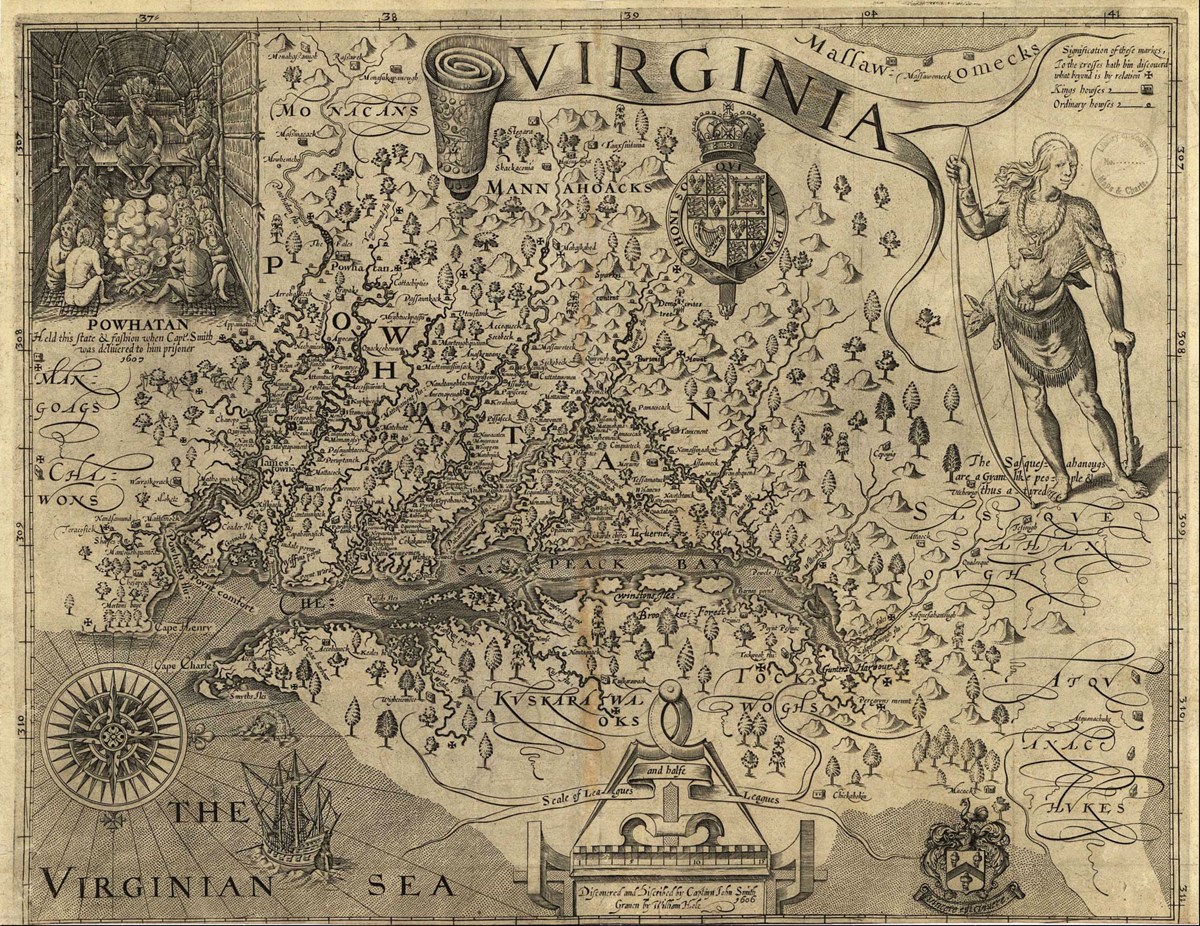 Smith's map records not only the geographic features of the Chesapeake, but also its cultural aspects, including more than 200 Indian towns. Many of the place names remain in use today.
Together with his journals, Captain John Smith's map provides an unparalleled record of what the Chesapeake was like four centuries ago.
Why Make the Maps?
John Smith's mission in undertaking his 1607-09 Chesapeake voyages was to explore the region, find riches, and locate a navigable route to the Pacific. Making maps and claiming land for England was fundamental to his goals, the Jamestown Colony, and the Virginia Company of London.
What Does Captain John Smith's Map show?
The first detailed map of the Chesapeake Bay and what is now Virginia, Maryland, Delaware, Pennsylvania, and Washington D.C.
The shoreline, rivers, tributaries, bays, and islands he visited on his voyages.
More than 200 Indian towns and their names.
Illustrations of Powhatan, a paramount Chief, and of a Susquehannock Indian described as the "goodliest man we ever beheld.
Culmination of 20 separate trips during Smith's stay in Virginia.
See a comparison between
Smith's Map and a Modern Map
.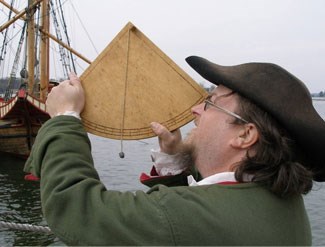 How Did He Create the Map?
As they sailed, Smith and his crew wrote notes, made sketches, and used a compass, quadrant and various other pieces of equipment to record locations. They also gathered information from Indians they met along the way. Smith compiled the information in Jamestown in 1608 and sent an early map back to England. This first map ultimately fell into Spanish hands and became known as the "Zuñiga Map."
In the 1600's, determining exact geographic locations was difficult because of primitive navigational devices. Smith probably used a compass in conjunction with a speed measuring device, possibly a chip log, to see how far they had traveled from a given point. Latitude was estimated with a quadrant but there was as yet no way to determine longitude.
Three years after Smith returned to England in 1609, he prepared and published the definitive version of his map in 1612. Some scholars question whether the differences between Smith's 1612 map and the 1608 version credited to Zuñiga are corrections or are embellishments made by Smith working from memory several years after the fact.
Smith gathered considerable information for his map from the Indians he met on his voyages. He appears to have had an unusual ability to build relationships with them despite the completely different cultural mindsets of Europeans and American Indians. Smith learned some of the local Algonquian language during 1607 and could converse with many of the people he met.
The map contains illustrations of Powhatan's council and of a powerful Susquehannock Indian. It also records more than 200 Indian towns, spelling out their place names phonetically. Many of these names remain in use today.
John Smith was careful to distinguish between places he had seen and those he learned about from the Native Americans. On his map, he used cross symbols to indicate the boundaries of the areas he had seen for himself. He have this explanation of the crosses shown on the 1612 map: "...in which map observe this: that as far as you see the little crosses on rivers, mountains, or other places, have been discovered; the rest was had by information of the savages, and are set down according to their instructions.

Smith's 1612 map shows 27 crosses. Can you find all 27?
Did you know?
The date on Smith's map is 1606, which is before the start of his earliest explorations of Virginia and the Chesapeake Bay in 1607.
North is not at the top of the map as is the norm today, but to the right. Captain Smith drew the map from the perspective of a ship coming from the Atlantic.
A league - the scale used - equals 3 miles
Last updated: January 21, 2021