For Kids
Captain John Smith was quite an adventurer when he explored the Chesapeake Bay 400 years ago. Now the trail that is named for him offers lots of adventures for all ages, on water and on land. The more you see and learn about the Chesapeake Bay, the more you will want to explore.

Notice: Due to delays in mail delivery times Junior Ranger badges are taking longer than expected to arrive. We appreciate your patience, and encourage you to continue sending in your completed books!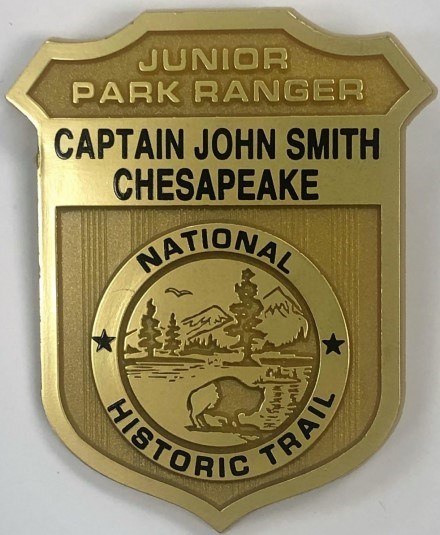 Become a Junior Ranger
Begin your explorations right from your computer when you earn a Junior Ranger Badge (ages 6-12).
As a Junior Ranger you will learn about:
Explorer Captain John Smith and his voyages on the Chesapeake Bay
The American Indian peoples who lived along the Chesapeake Bay
What the Chesapeake Bay was like 400 years ago and what it is like today
What you can do as a Junior Ranger to help the Chesapeake Bay
PLUS you earn a badge to show that you are an official Junior Ranger for the Captain John Smith Chesapeake National Historic Trail.
Junior Ranger - Captain John Smith Chespeake National Historic Trail
Download the Junior Ranger Activity Book (726 KB)
Read the instructions in the introduction
Take a "virtual tour" of the Captain John Smith Chesapeake National Historic Trail by exploring this website
Complete the activity pages for your age group
Send the completed pages and your signed Junior Ranger Pledge to:
Email: CAJO_Junior_Ranger@nps.gov
OR
Mail: Captain John Smith Chesapeake National Historic Trail
Junior Ranger Program
P.O. Box 210
Yorktown, VA 23690
Junior Ranger - Susquehanna River
Email: CAJO_Junior_Ranger@nps.gov
OR
Mail: Captain John Smith Chesapeake National Historic Trail
Junior Ranger Program
P.O. Box 210
Yorktown, VA 23690
Related Junior Ranger Books
Junior Ranger Park Explorer: Plan Your National Park Visit
Junior Archeologist
Junior Ranger Angler: Let's Go Fishing
Junior Ranger Underwater Explorer
Last updated: June 13, 2022