Turf Improvement Project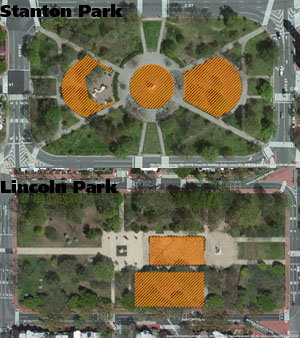 News Release Date:
October 2, 2014
Contact: Jenny Anzelmo-Sarles, 202-619-7400
WASHINGTON— The National Park Service (NPS) will improve grassy areas at Lincoln and Stanton parks by improving soil heath, re-seeding with a new seed blend and allowing time for proper seed germination, which will create a strong root system. The result will be durable turf that is more tolerant of heavy use. We kindly ask the public to observe the posted closures from October 14, 2014 through June 30, 2015 to help ensure the project's success.
An NPS turf specialist developed a special seed mixture and germination timeline especially for the conditions at Lincoln and Stanton Parks with the goal of creating a dense lawn that will remain healthy at high temperatures and low soil moisture, while also being able to tolerate heavy use. If the seeds are given time to root properly, the result will be a heartier lawn that should reduce the frequency and length of any future closures.
"Over time, the soil in the parks has become so compacted it is unable to reliably support grass. We are using a new approach for this project that will get the soil and grass root system to a healthy baseline from which we will continue to improve with ongoing care and community support," Superintendent Gopaul Noojibail said. "This is a long-term commitment, and our end goals are healthy, beautiful parks that are open for the community to enjoy."
The center and south center panels of Lincoln Park and the center and eastern panels of Stanton Park will be closed for this project. While the playgrounds at both parks will remain open for use, turf improvement will also close the grassy area inside the playground at Stanton Park. All other areas will remain open.
To promote safe access for all those who enjoy the parks, including small children, it is important that pet owners follow leash laws at all times. Title 36 of the Code of Federal Regulations requires that pets be restrained at all times on a leash no longer than 6 feet. DC Department of Parks and Recreation maintains dog parks in the city. The nearest off-leash dog park is Kingsman Field Dog Park, located at D Street NE & Tennessee Ave NE.
For the most up-to-date information regarding this project, please visit our website at https://www.nps.gov/cahi/parkmgmt/turf-improvement.htm.
Last updated: April 10, 2015