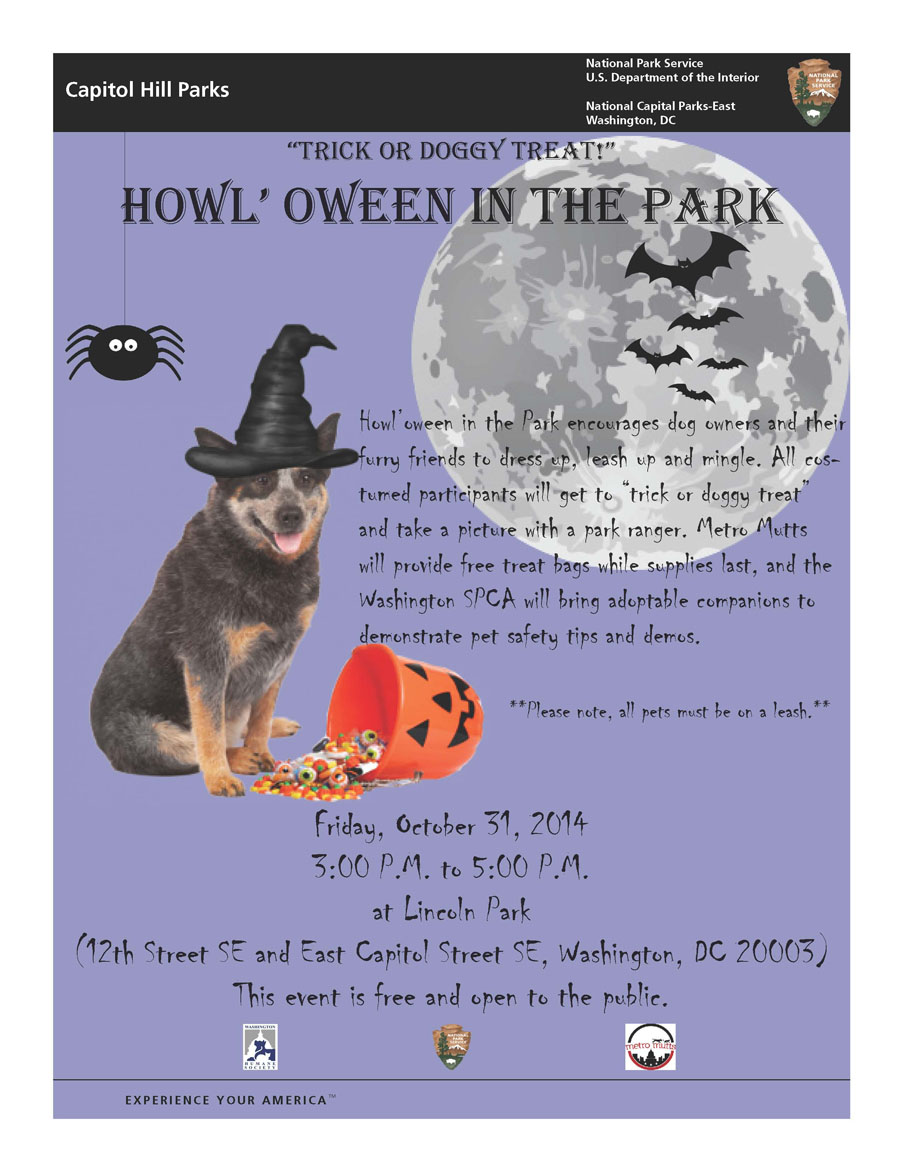 News Release Date:
October 21, 2014
Contact: Jenny Anzelmo-Sarles, 202-619-7177
National Capital Region
1100 Ohio Drive SW
Washington, DC 20242

202-619-7400 phone
www.nps.gov


National Park ServiceNews Release

FOR IMMEDIATE RELEASE: October 21, 2014
Media Contact: Jenny Anzelmo-Sarles, 202-619-7177

Dress Up for Howl'oween in the Park

WASHINGTON – The National Park Service (NPS) is teaming up with the Washington SPCA and Metro Mutts for a Halloween celebration and pet safety awareness meet and greet for the dogs and dog parents who enjoy Capitol Hill Parks. The festivities run from3 p.m. to 5 p.m. on Friday, October 31, 2014

at Lincoln Park.

Howl'oween in the Park encourages dog owners and their furry friends to dress up, leash up and mingle. All costumed participants will get to "trick or doggy treat" and take a picture with a park ranger. Metro Mutts will provide free treat bags while supplies last, and the Washington SPCA will bring adoptable companions to demonstrate pet safety tips and demos.

The event aims to promote safe and respectful access for all those who enjoy Capitol Hill Parks. The NPS relies heavily on community stewardship to help preserve and protect the natural and cultural resources of these urban green spaces. Pet owners are vital in helping promote safety for both pets and people. Adhering to the leash laws not only helps preserve the resources of the parks, but ensures that people and pets alike can enjoy Capitol Hill Parks for years to come.

This event is free and open to the public. Lincoln Park is located at 12th and East Capitol Streets SE, Washington, D.C. For more information, please visitwww.nps.gov/cahi.