Visiting the Statue of Liberty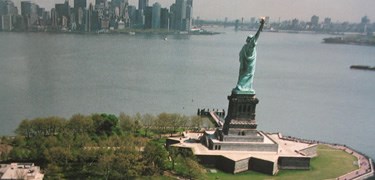 Please visit Statue of Liberty National Monument's Plan Your Visit page for the latest information regarding transportation to Liberty and Ellis Islands.
Castle Clinton NM currently serves as the departure point for ferry to Statue of Liberty National Monument and Ellis Island.
Things to Know Before You Come
There is a ticket booth inside Castle Clinton NM. The line for these tickets typically forms prior to the site's opening at 8:30 a.m. and can take up to an hour. Visitors are advised to purchase tickets in advance at www.statuecruises.com or via phone at 877-LADY-TIX (877-523-8949).
Please be advised that National Park Service Rangers at Castle Clinton cannot hold items that are forbidden on the ferries to Statue of Liberty NM and Ellis Island. Forbidden items include:
- ALL weapons, including firearms, knives (including pocket knives and pen knives), mace (or pepper spray), any dangerous items, and any "dual-use" items that could be dangerous are strictly prohibited in the park and on the ferry system.
- Scissors, sharp instruments, and tools are prohibited. Do not carry any of these types of items into the security screening area. Items that are surrendered will not be returned. If you are unsure about an item, please do not bring it.
- LARGE packages, suitcases, carry-on luggage and other large parcels will not be permitted on the ferry systems or at Liberty and Ellis Islands.
Please click below for a complete list of prohibited items before arriving to Castle Clinton NM.
Last updated: July 18, 2012