Public Transportation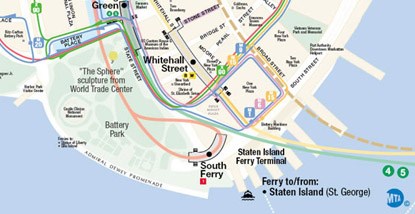 Subway
* Take the #1 train to South Ferry/Whitehall.
* Take the #4 or #5 train to Bowling Green.
* Take the R or W train to Whitehall Street/South Ferry.
Bus
Take the M1, M6, or M15 bus to Battery Park.
For schedules and maps regarding public transportation in New York City, please visit the website for the Metropolitan Transportation Authority of the State of New York.


Last updated: February 12, 2015