Getting Around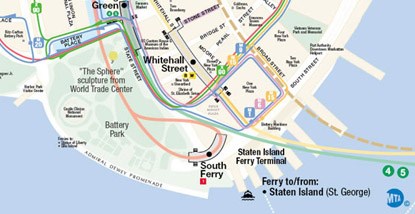 Subway
* Take the #1 train to South Ferry/Whitehall.
* Take the #4 or #5 train to Bowling Green.
* Take the R or W train to Whitehall Street/South Ferry.
Bus
Take the M1, M6, or M15 bus to Battery Park.
For schedules and maps regarding public transportation in New York City, please visit the website for the Metropolitan Transportation Authority of the State of New York.
Traffic and Travel Tips
Many areas of Lower Manhattan are undergoing construction. If you are planning to drive, review the Lower Manhattan Construction Command Center for the latest traffic information.
Street parking in downtown Manhattan is extremely limited. There are many parking garages in the area, but they are very expensive. Please use Public Transportation, if possible.
Last updated: February 12, 2015