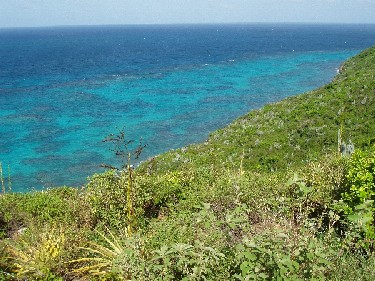 The United States Virgin Islands consist of St. Thomas, St. Croix, and St. John, all popular destinations in the Caribbean Sea. The islands are reached by several airlines with flights into the Henry E. Rohlsen Airport on St. Croix, Virgin Islands.
Car: Travel by car or taxi van to downtown Christiansted or to Green Cay Marina east of Christiansted. Six concession companies provide transport by boat to Buck Island Reef NM from these locations. REMEMBER WE DRIVE ON THE LEFT IN THE VIRGIN ISLANDS!
Public Transportation: Buck Island Reef National Monument is accessible by park licensed concessionaires or private boat and is a 5.5 mile (8.8 km) sail from Christiansted on St. Croix. Concession boats are available at Christiansted Wharf or Green Cay Marina.
Privately operated boats must abide by park regulations and maneuver slowly through Monument waters and watch out for snorkelers at all times.
Getting Around: The only way to get to Buck Island Reef NM is by boat; private or park licensed concession operation which has daily trips, full or half day. The trip is between 40 minutes to 1 1/2 hours, depending on whether you sail or motor to the park, and the weather. Once at Buck Island Reef you can only access the outer reef and the underwater trail by boat. There is only one moderately strenuous footpath on the island, which takes 60 minutes from beach to the reef overlook and back down to the beach. All other sites can be seen by walking, swimming, or snorkeling.

Currently, our concessionaires are:
Big Beard's Adventure Tours,
44A Queen Cross St.
340.773.4482
www.BigBeards.com
info@bigbeards.com

Caribbean Sea Adventures
59 King's Wharf
340.773.2628
www.caribbeanseaadventures.com
info@caribbeanseaadventures.com

Jolly Roger Charters
Christiansted Harbor Mooring
340.513.2508
http://www.jollyrogervi.com/
captainmike90@hotmail.com

Llewellyn's Charters
St. Croix Yacht Club
340.773.9027
llewellynwesterman.com
kmcottonvalley@hotmail.com

Teroro II, Inc. and Dragonfly
Green Cay Marina
340.718.3161
http://www.gotostcroix.com/buck-island/heinz/
teroro@msn.com