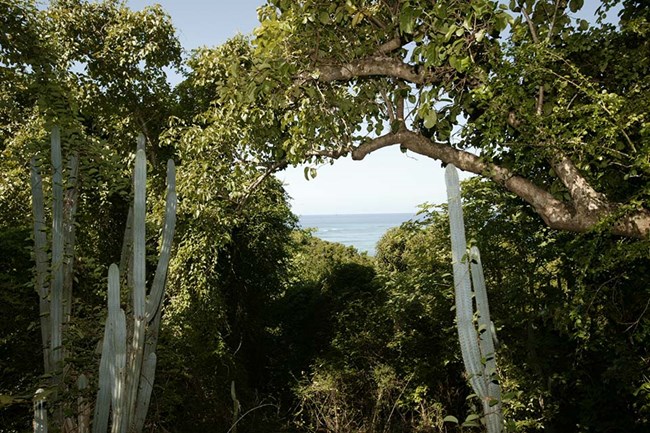 The vegetative appearance of Buck Island has changed drastically over the past 250 years. The subtropical deciduous dry hardwood forests that used to cover Buck Island and St. Croix were largely cut down beginning in the 1760's. Iron wood (Lignum vitae) and other tropical hardwoods were valuable woods for export. Non-native plants, like tan-tan, tamarind, and coconut palms, soon took hold. Some non-native plants, like sweet potato, pineapple, and wild cotton, were introduced by ancient Amerindian settlers nearly 2,000 years ago.

The subtropical dry forest of Buck Island is now recovering. Over 228 species of plants have been identified on Buck Island, 180 of which are native. However, much of the island is today covered by shrub thickets in various stages of natural succession, as the former hardwood forest species re-establish themselves. Shrub thickets usually develop after land has been cleared by fire, cultivation, grazing, or other means, and remain well established on the upland areas of Buck Island's eastern slopes. Common species found in shrub thickets include acacia (Acacia tortuosa), yellow balsam (Croton rigidus), buttonsage (Lantana involucrata), and organ pipe cactus (Cephalocereus royenii). Three species of mangroves are found surrounding the salt pond: black mangrove (Avicennia germinans), white mangrove (Laguncularia racemosa), and buttonwood (Conocarpus erectus). Plants typically found on open beaches include bay flower (Blutaparon vermiculare), sea purslane (Sesuvium portulacastrum), bay cedar (Suriana maritima), seagrape (Coccoloba uvifera), coughbrush (Ernodea littoralis), and bay hops (Ipomoea pes-caprae).

Some nonnative plants are historically and culturally important. It is believed that the Tamarind tree (Tamarindus indica) was brought to St. Croix, and Buck Island, by enslaved Africans. Many of these trees, once they have grown large, are known as "jumbie" trees, and considered culturally important to people on St. Croix. You can see a small grove of old-growth tamarind trees along the hiking trail on the northwest side of the island.
Invasive Non-Native Plants Invasive non-native plant species displace native plant species, alter species proportions, alter nutrient and fire patterns, modify geomorphology, hydrology, and biogeochemistry, and reduce recreational use of resources. Nineteen out of the 228 plant species identified on Buck Island Reef are not native. Six invasive nonnative species are of immediate concern:
• Guinea grass (Urochloa maxima)
• Tan-tan, wild tamarind (Leucaena leucocephala)
• Cedar or ginger Thomas (Tecoma stans)
• Wild pineapple, penguin (Bromelia penguin)
• Boerhavia (Boerhavia erecta)
• Aloe (Aloe vera)
Three species of exotics present and known to exhibit invasive characteristics in the region are:
• Genip (Melicoccus bijugatus)
• Haiti-haiti or seaside maho (Thespesia populnea)
• Painkiller or noni (Morinda citrifolia)