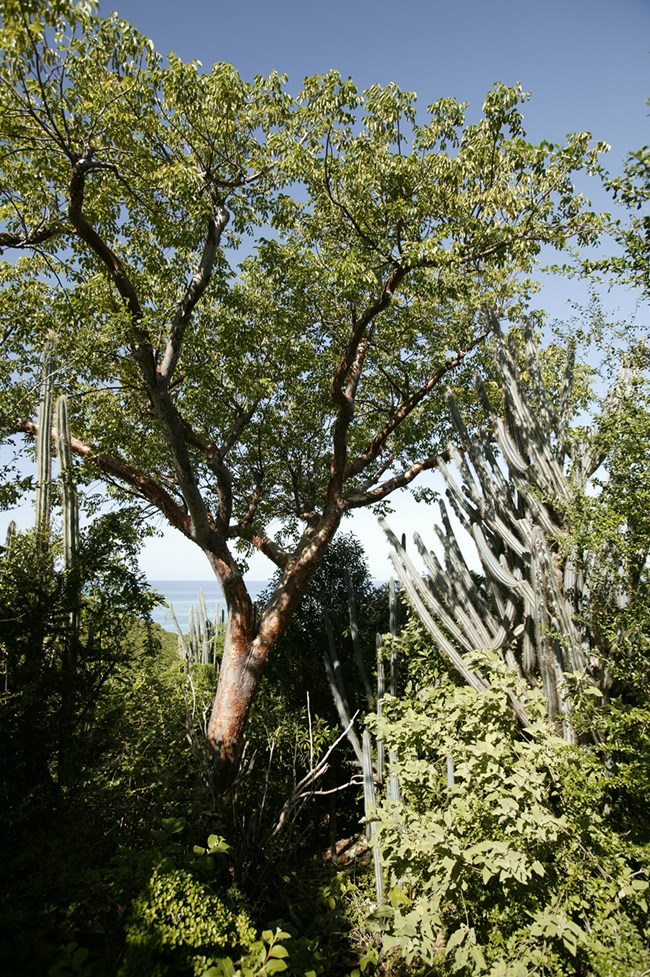 Subtropical Dry Forest
Subtropical dry forest covers much of the landmass of St. Croix, but this is a relatively recent development. Prior to the arrival of European colonists, much of the northern (windward) side of the island would have been covered in semi-evergreen rain forest, while the southern (leeward) side, receiving less rainfall, would have likely consisted of subtropical dry deciduous hardwood forests.

These forests consisted of species like water mampoo (Pisonia subcordata), dogwood (Piscidia carthaginensis), wild lime (Adelia ricinella), limber caper (Capparis flexuosa), ginger thomas (Tecoma stans), gumbo-limbo (Bursera simaruba), pigeonberry or bodywood (Bourreria succulenta), ironwood or lignumvitae (Guaicacum officinale), and white manjack. The only remnant of the semi-evergreen rainforest is located in the northwest mountainous region of the island; however, these mountains are not high enough in elevation to generate cloud forests as on Puerto Rico and Jamaica. Plants found in the rainforest include kapok (Ceiba pentandra), Jamaican caper (Capparis indica), black mampoo (Guapira fragrans), West Indian mahogany (Swietenia mahogoni), and spiceberry (Eugenia rhombea), with an understory that includes limeberry (Triphasia trifolia), hairy wild coffee (Psychotria pubescens), and painkiller (Morinda citrifolia).