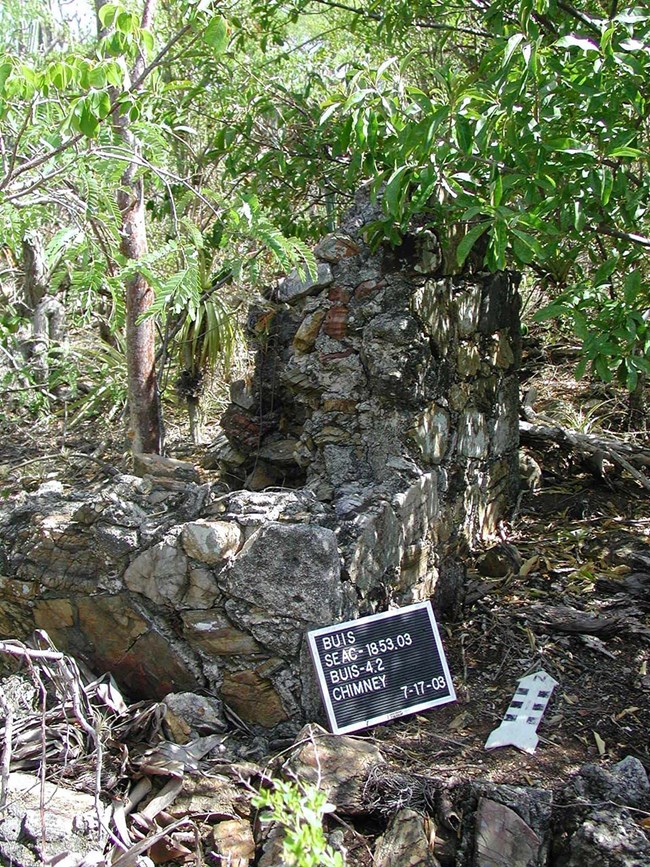 The first people to set foot on Buck Island were probably late Saladoid-era peoples, the first settlers on St. Croix and the ancestors to the Taino. They likely camped on the beach while they fished, gathered sea turtle eggs, conch, and maybe lobsters. Their home village may have been Coakley Bay. They left behind pottery in styles that date all the way back to ca. A.D. 400. They also left behind large piles of conch shells (called middens) with holes punched in their apexes, evidence of meat extraction. Unfortunately these conch middens have been destroyed by storms and rising sea levels.
The first European known to be associated with Buck Island was Johann Diedrich, the town clerk for Christiansted. Diedrich reportedly built a house "on top the island which provided an unparallel view of the shipping lanes." During his tenure there were between 6 and 12 enslaved Africans living on the island at any time. In 1772, three enslaved Africans were listed as living on the island, likely harvesting lignumvitae trees, land-crabs, and lobsters. They would have survived on the island by fishing, gathering shellfish, planting sweet potatoes, and catching rainwater in above ground cisterns, in addition to provisions brought from the "mainland" of St. Croix.
In 1789, the Danish government built a signal station on the highest peak of Buck Island, at 329 feet. The signal keeper and his family, and slaves, lived nearby.
In 1822, Buck Island became the official possession of the Danish Crown through the practice of landskassen (land treasury), or, the appropriation of rural lands by the government for their protection. These lands were then leased to various individuals for appropriate uses, as so determined by the Danish government.
Census data throughout the nineteenth century note that small groups of people were living on the island. For example, in 1841, six people were living on the island; two fishermen, a housekeeper, and "three professional drunks."