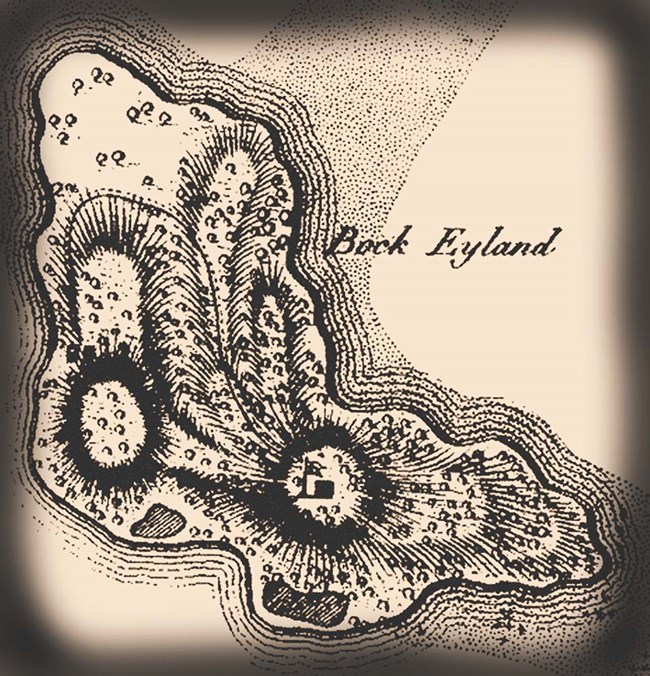 People have come to Buck Island to enjoy the island's beaches, waters, fish, and other wildlife, for nearly 2,000 years. By ca. A.D. 400, Amerindians living on St. Croix, who had arrived to the region via the Lesser Antilles and the Lower Orinoco River and Guyana coastal areas, began to visit Buck Island to fish, hunt lobsters and large land crabs, gather conch and possibly gathering sea turtle and bird eggs. Archeology has revealed that they camped in the beach forest, leaving behind pieces of pottery and their campfires, or hearths.

Buck Island has been called many names over the years - Cabrit, Cabrito, Burre, Goat, Vert, Holm, Gedeøen Frederiksgave, Pockholz, Pocken Eyland, and Bocken Eyland . On early maps dating to the 1600s, Buck Island is called Isle Verte, or Green Island, and what is today called Green Cay was called Isle a Cabrits. By the 1700s, Buck Island was labeled on maps as Pocholz or Pocken Island, and later it became known as Buck Island. It is believed that the change in name is due to a map maker's error, but the name "pockholz" is a historic name for Lignum vitae, or the ironwood tree, which used to grow on the island and was an important resource used by Europeans.

When St. Croix was taken over by the French in 1650, many plantations were established across the main island. However, there is no evidence that people lived here on Buck Island during this time. Historic maps dating from 1650-1690 do not show any buildings.

In 1754, the first person is listed as managing or owning Buck Island – Johann Deidrich, the town clerk of Christiansted; the estate was referred to as Deidrich's Plantage. He ran the island until 1773. It is known that between 6 and 12 enslaved Africans lived on the island at any time during Deidrich's tenure; in 1772, three enslaved people were listed as living here. Deidrich reportedly built a house high on the island, to view the shipping lanes.

In 1789, the Danish government built a signal station on the highest point of Buck Island. This station alerted the guards stationed at Fort Christiansvaern (in Christiansted) of arriving ships by raising a flag.

The position of the signal keeper changed hands often over the years. In 1822, Buck Island became a possession of the Danish Crown, through landskassen, the act by the land treasure to appropriate rural lands by the government for their protection. In the 1850s, the Danish landskassen of St. Croix were controlled by the colonialskassen, the colonial land treasury.