Weekend Getaway: Upper District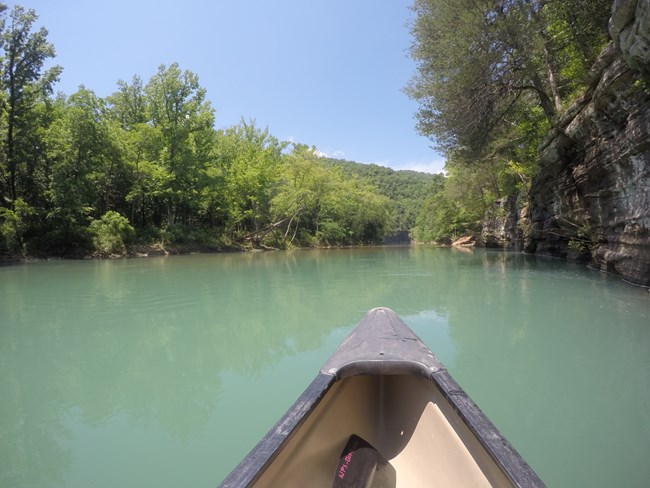 Day 1: Paddling and Camping
For a full day of paddling, visitors may select either of the two premiere float trips in the Upper District. Click here for information about paddling safety, river etiquette, and canoe rentals/shuttles.
Option 1: Steel Creek to Kyles Landing (8 miles)
Hands-down the most beloved and popular section of the upper river, Steel Creek to Kyles Landing meanders through the heart of the Ponca Wilderness past towering bluffs, hidden side canyons, and relics of early settlement. Alternating between tumbling rapids and long, cerulean pools, paddlers will delight in the variety of pace and challenge. Landmarks along this stretch include Big Bluff, Jim Bluff, Granny Henderson's cabin, Hemmed-In Hollow Falls, and the infamous "Hell's Half Acre." The takeout at Kyles Landing is on river right. Shuttle time between Steel Creek and Kyles Landing is approximately 40 minutes. High clearance and 4-wheel drive are recommended for the Kyles Landing Road.
Option 2: Pruitt Landing to Hasty (7 miles)
The float from Pruitt to Hasty is a popular alternative when conditions upriver are too low for paddling. This section flows past geologic curiosities, shaded swimming holes, and cool, dripping springs as the river veers southward in its journey. Welch Bluff, about a mile downstream from Pruitt, contains a geologic fault where visible rock strata have shifted about 100 feet upward on the downstream side of the fault line. At the base of Welch Bluff is the Crow Hole, a shaded swimming area with a primitive campground. Approximately halfway between Pruitt and Hasty, the Little Buffalo River dumps into the "Big Buffalo" on river right; the river typically gains velocity from here. The takeout at Hasty is a sandy beach on river right, directly across from Chimney Rock Bluff. Shuttle time between Pruitt and Hasty is approximately 25 minutes.
Camp Out
On warm spring weekends with adequate water, every campground in the park's Upper District fills to capacity, often by Friday evening. For this reason, if you'd like to camp in the park during this season, you should either plan to arrive on Friday afternoon/evening or reserve a campsite online. Steel Creek is the only campground that offers advance reservations through www.recreation.gov. Kyles Landing, Erbie, Ozark, and Carver Campgrounds are all first come, first served. Click here for more information about camping in the Upper District.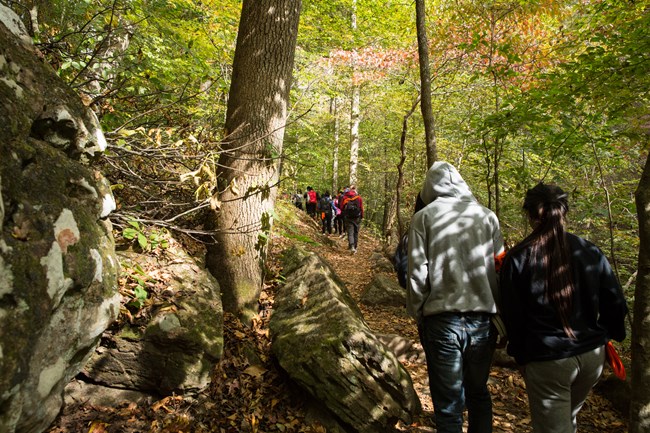 Day 2: Hiking and Sightseeing
Watch Wildlife in Boxley Valley
With an estimated population of 100 Rocky Mountain elk, Boxley Valley Historic District is known as the Elk Capital of Arkansas. Cruise the 6-mile stretch of Hwy. 43 and 21 between Ponca and Boxley in the fall or winter for a chance to view these majestic creatures from designated viewing areas. Your best chances of spotting elk are at dawn and dusk. Birdwatchers may view bald eagles, osprey, great blue herons, and egrets in the vicinity of the Boxley Mill Pond along Hwy. 43 approximately 1 mile north of the Hwy. 21/43 intersection.
Hike the Lost Valley Trail
At approximately 2.5 miles round-trip, the Lost Valley Trail is jam-packed with geological and archeological wonders that will mystify hikers of all ages and abilities. This trail immediately crosses Clark Creek (ABA-accessible pedestrian bridge coming soon) and follows its path upstream into a box canyon. Click here for more information about the Lost Valley Trail. Restrooms, pavilion, and picnic tables available. Pets not permitted on the Lost Valley Trail.
Visit Roark Bluff at Steel Creek
Roark Bluff is among the most iconic blufflines on the entire length of the Buffalo River. At 3/4 mile long and more than 200 feet tall, this sheer slab of streaked sandstone towers over the river at Steel Creek Campground. Drive to the tent camping area and park near Site #24. A marked trail leads to the river and the upstream end of the bluff. Walk the gravel bar and take in the sights and sounds or perhaps take a swim in the Rushing Hole at the base of the bluff.
Step Back in Time at Beaver Jim's Homestead
Nestled on a hilltop overlooking the Buffalo River at Ponca is a half-mile loop that circles the historic Beaver Jim Villines homestead. Explore the two-pen log farmhouse, barn, corn crib, root cellar, privy, and other relics of early agricultural life dating as far back as 1854 with additions as recent as the 1940s. Click here for more information about the Beaver Jim Villines Homestead Loop.
Last updated: February 9, 2022