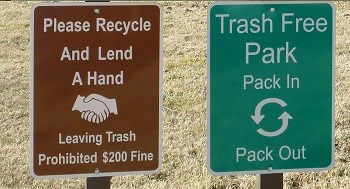 Keep the Buffalo Beautiful
Like many other parks in the national park system, Buffalo National River is encouraging visitors to dispose of and recycle their trash at home. Repackaging your supplies before you leave home can reduce the trash you generate along the way so you have less to take home again.
Pack it in – Pack it out
Visitors should be prepared to take their trash home for disposal and recycling.
Remember:
Arkansas state law requires anyone floating the river with food and/or beverages to carry and secure a mesh litterbag. See our
River Rules
page for more information.
Vault Toilets
Must be pumped out periodically. Trash clogs the pumper so please no trash in the toilets.
Catholes
If you need to go in the backcountry and along the river, please dispose of human waste properly by digging a small hole at least 200 feet from the river or any water source. Follow Leave No Trace principles by covering and disguising the hole. Toilet tissue should be packed out as trash, not buried.