River Rules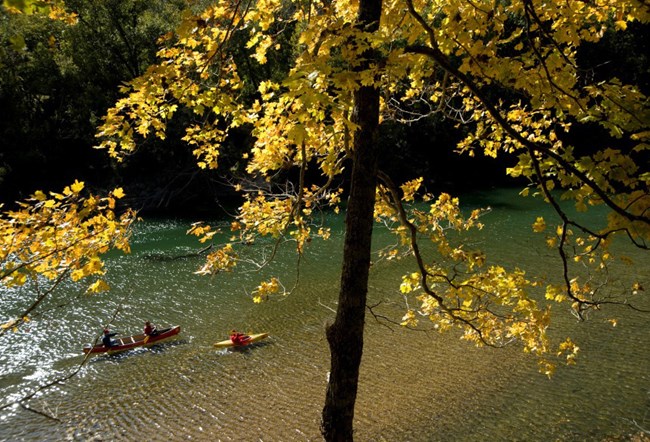 As you're planning your paddle or float the Buffalo River, please remember the Rules of the River that are intended to keep you safe and the river clean. If you have any questions about these rules or any other aspect of paddling the Buffalo, please click on our Paddling page or contact a park ranger at a visitor center or contact station.
Glass Containers: The possession or use of glass containers in caves, on trails or waterways within 100 feet (30.48 meters) of any river or stream is prohibited for public safety, except in designated campgrounds, picnic sites, or in vehicles on designated roads and parking areas.
Mesh Litter Bags: All canoes, kayaks, tubes, rafts, and other vessels easily suseptible to swamping, tipping, or rolling must have an attached closeable mesh litter bag. All trash must be disposed of safely and legally. A mesh litter bag is not required for people traveling without food or beverages. If you rent your vessel from a park authorized concessioner a litter bag will be provided with each vessel. You may also purchase a litter bag from a concessioner for use in your privately owned vessel. Visit our park's Canoe Rental page for a list of park authorized concessioners.
Fasten Cooler Lids: If you are transporting food and/or beverages in a vessel on the river, it must be kept in a sealed cooler or container that prevents the contents from spilling into the river.
Use a Floating Holder (Koozie) for Beverages: All beverage containers not securely contained in a sealed cooler or mesh litter bag must be held in a floating holder that is designed to prevent it from sinking beneath the surface of the water.

Foam Coolers: The possession of polystyrene coolers (commonly known as Styrofoam) is prohibited while floating or camping along the Buffalo River, except in developed campgrounds, picnic areas, landings, roads, and parking lots. This prohibition includes cups, plates, coolers, ice chests, and containers. High-density bait containers, used solely for that purpose, are allowed.

Life Jackets (PFDs): Every vessel must have a life jacket (personal flotation device) for each person on board the vessel. Children 12 and under must wear a securely fastened life jacket while on board any vessel. All life jackets must be (1) U.S. Coast Guard approved, (2) in a safe and servicable condition, and (3) of proper size for the person wearing it. Visit our Life Jacket Loaner page to learn how you can borrow a life jacket during your next visit to the river.

Human Waste Disposal: In non-developed areas solid human waste must be: deposited in fixtures provided for that purpose; buried in a cathole 6"to 8" deep and at least 200' from water, camp, and trails; packed out in a disposable biodegradable bag toilet system approved for landfill disposal (WAG bag or similar system); or packed out in a self-contained washable, leak-proof, reusable toilet system.
Last updated: December 8, 2020