Protecting the Park
Buffalo National River is part of the national park system. Plants, animals, rocks, historic sites, and prehistoric sites are protected by law for all to enjoy.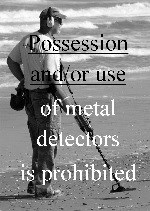 This is Your playground, your sanctuary, your classroom, not your canvas.
Graffiti does not enhance the beauty of rocks or bluffs.
Carving in bark increases the likelihood of disease.
Picking a flower ends its cycle so it produces no seeds for next year.
Protect park resources in their natural state.

Collecting of anything is prohibited (except designated edibles for personal consumption).
Littering is prohibited. Picking up after those less considerate is encouraged.
Please stay on hiking trails. Avoid short cuts that create erosion and harm plants. If stepping off trail is unavoidable, don't trample lichens or delicate plants. Bicycles are not permitted on trails. ATVs and similar off-road vehicles are prohibited in the park. When operating a motor vehicle within the park, please stay on park roads and parking areas. ATVs are not permitted.

Excessive noise lessens the likelihood of spotting wildlife. Have fun while respecting others.
Help protect your park by reporting violations to a park ranger.
Legal regulations while floating are found on the River Rules page.
Last updated: January 15, 2017