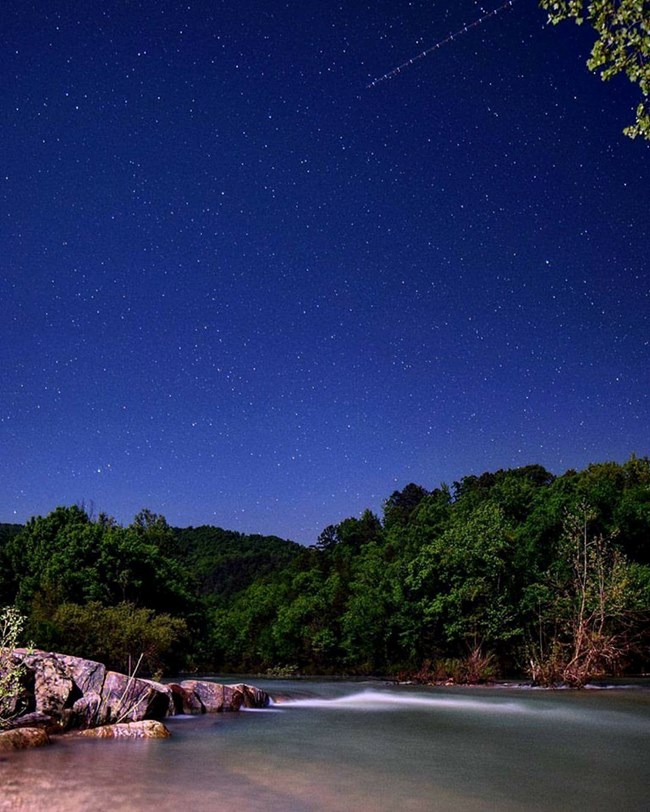 Buffalo River's Natural Night Skies: A Window On The Universe
You may have recently noticed some changes to our restroom and facility lighting at Buffalo National River. The park is in the process of applying for status as an International Dark Sky Park (IDSP) by the
International Dark-Sky Association
(IDA). To obtain this status it is necessary for the park to adopt responsible outdoor lighting practices that will protect the park's naturally dark skies and serve as a teaching example for our local communities and visitors on how and why night skies can be protected as a valuable natural resource.
Parks can be more than just places to take a hike or pitch a tent. They can be places to renew your spirit and find solitude, through communing with nature. The park's forests and free-flowing waters provide that by day, but its natural unpolluted skies can do that by night as well. The night sky has been drastically impacted by man in recent decades with natural nighttime skies becoming as endangered as wilderness and free-flowing streams. However, the wonderful thing is that we can easily reverse this with responsible use of artificial light!
We want Buffalo National River to be a place where you, your friends, and your family can come to relax and renew. A place of wilderness, just outside the reaches of our modern society, during the day and night. So protecting our small piece of the natural sky is something that the park is striving to do. By bringing attention to the parks increasingly rare natural night sky resource, and through new programming and educational activities focused on that resource, the park hopes to extract a whole new value for our patrons and the public in general.
There are 18 other National Park Service sites with IDSP designation, we hope that Buffalo National River will be the first park in Arkansas to achieve this status! Visit the
National Park Service's Night Skies
website to learn more about the criticalness of protecting our night skies.