Date:
July 31, 2014
Contact:
Keith A. Jefferson, 870-365-2798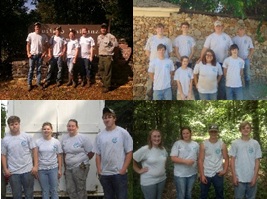 Twenty Youth Conservation Corps (YCC) participants have been busy most of this summer assisting Buffalo National River staff with numerous projects to help protect and maintain the river and park. The YCC was created in 1970  as a summer work program to introduce young Americans to conservation opportunities on the nation's public lands. Buffalo National River employs local teens each summer to participate in the program to restore, rehabilitate, and repair the natural, cultural, and historical resources within the park. While the program provides local youth the opportunity to contribute to the upkeep of the park, it also allows them the chance to interact with staff who perform a wide variety of jobs within the park.  "Daily interaction with park personnel is very important because it allows the young men and women to obtain insight into the challenges and opportunities associated with managing a national park," said Superintendent Kevin Cheri.  "The experience also introduces them to potential jobs within the National Park Service that may capture their interests."
This year, the participants performed a number of important tasks. The Upper District crew brushed - sapling, small tree, and bush removal - from Mill Creek Trail, Pruitt to Ozark Trail, and Lost Valley Trail. The Middle District crew brushed Sod Collier Trail, South Maumee to Spring Creek Trail, and Spring Creek to highway 14 bridge. The Lower District crew completed repairs on the Indian Rockhouse Trail, brushed the access trail at Cow Creek to the cross, the Lost Valley Trail, Christy Cemetery, and Spring Creek Trail. They also mowed and cleaned Christy Cemetery and cleaned fire rings, grounds, and restrooms at Buffalo Point.  Each district based crew took part in cleaning and brushing around historic Boxley Mill. The Harrison crew brushed over 18 miles of horse and hiking trails, including the hiking trails near the Buffalo Point Campground and Tyler Bend Campground, Cecil Cove, and sections of the Buffalo River Trail surrounding Steel Creek.  They also assisted the trail crew with installing water bars and checks along the Bench Trail and the Cecil Cove Trail.  This consisted of digging holes in the trail for logs, filling with rock, crushing to gravel size, and then covering with dirt.  The crew also assisted the other YCC groups with cleaning four cemeteries and replaced the hitching post at Granny Henderson's.
As the summer comes to a close, Buffalo National River appreciates the efforts of each of the 20 participants and is looking forward to next summer. According the Superintendent Cheri, "the involvement of local youth is an essential component in building stewardship for the park and a solid work ethic. On behalf of the Buffalo National River staff, we are grateful for their hard work and we look forward to providing employment opportunities for local students each summer."