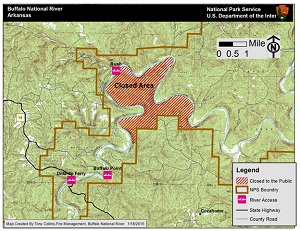 News Release Date:
January 18, 2015
Contact: Caven Clark, 870-365-2790
At approximately 2 pm on Sunday, January 18, 2015, a call was received by Buffalo National River Dispatch reporting a fire in the vicinity of Jackson Ridge in the Lower Buffalo Wilderness, Marion County. This part of the Lower Buffalo Wilderness is on the south side of the Buffalo River and has very limited public access via county roads. It is about 2.6 linear miles from Buffalo Point on Highway 14 to the western edge of the closure area.
At the time of reporting the size of the fire was estimated at about 20 acres which by nightfall had doubled. The rapid growth of the fire is due to low humidity, unseasonably high daytime temperatures, and a high fuel load, in part from the 2009 ice storm event. Wind of 15 mph with gusts up to 20 mph is also a factor in the spread of this fire. Tonight's weather should see a modest increase in humidity and diminishing winds. However, after sunrisetomorrow, it is expected that conditions will gradually begin to favor the continued spread of the fire.
Initial response has twelve National Park Service firefighters deployed at the fire, but no actions will be taken untiltomorrowwhen knowledge about the behavior of the fire will help inform planning efforts. There is no immediate concern for any assets, private or public, since this fire is in such a remote location, roughly in the center of what is referred to as the "duckhead" portion of the wilderness area (see map).
The fire will be monitored to insure that there are no threats to life and property. To this end, Park Superintendent Kevin Cheri has issued a closure notice for the entire 2,687-acre "duckhead" until conditions warrant rescinding it. This closure means that no unauthorized persons may legally enter the area indicated on the map. The river remains open but visitors should use the river-left bank (north side) for any camping or other activities. No threats are anticipated, but it could be very smoky at times. 
As luck would have it, when this fire was reported NPS fire staff were already assisting the Arkansas Forestry Commission in the suppression of another blaze near Tomahawk Creek in Searcy County. Although some NPS assets remained with the Searcy County fire, most were transferred to the Jackson Ridge Fire. 
To find out if the closure has been lifted, please call the Tyler Bend Visitor Center at 870/439-2502. All fires, accidents, and unsafe conditions can be reported to Buffalo National River Dispatch at 888/692-1162. This most welcome break in winter cold will create increasingly high fire potential so please exercise extreme care while enjoying your national park.