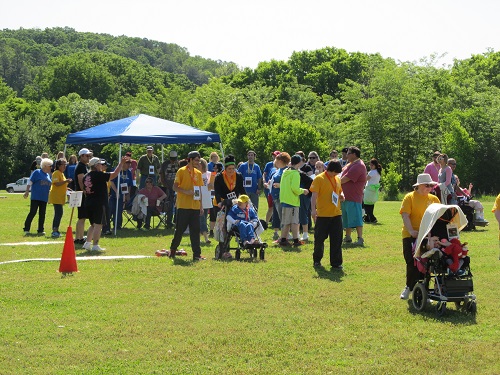 News Release Date:
May 6, 2016
Contact: Caven Clark, 870-365-2790
Buffalo National River has seen some very happy events in the past week, beginning with the Archeology Hike from Buffalo Point to Indian Rockhouse last Saturday, April 30. Thirty visitors, traveling from as far away as Little Rock, Jonesboro, and Fayetteville traversed slippery rocks and in places a flooded trail, for the opportunity to learn about the prehistoric and historic archeological past of the park. Zinc mining prospects and rock quarries dating from the Civilian Conservation Corps construction were seen along the trail with the main event being a presentation at the Rockhouse by Dr. Jamie Brandon from the Arkansas Archeological Survey and Dr. Caven Clark from Buffalo National River.
Rangers from Buffalo National River showcased the park's new program making available personal flotation devices (PFDs) for children at the Searcy County Health and Safety Expo at the Searcy County Civic Center in Marshall on April 30. Loaner PFDs will be available at the Tyler Bend Visitor Center. 
The big event of the week was the park's first Special Olympics Fun Day at Tyler Bend on Friday, May 6. Centered around the pavilion was a variety of events including bocce ball, Frisbee golf, shot put, a scavenger hunt/nature hike, and a softball throw. Participants, including volunteers, parents, and park staff numbered about 200 people, all enjoying the good weather and the good feelings of bringing Special Olympics teams from Harrison, Marshall, Bergman, and other communities to the Buffalo for the first time. Both participants and coordinators are already talking about "next year!"
Both events were made possible through the Active Trails grant from the National Park Foundation, and part of the larger "Explore for Health" program at Buffalo National River. In addition to today's event, Explore for Health sponsors scheduled monthly hikes and/or floats for visitors. Special efforts are being made this year to reach out to the county-based Hometown Health and Special Services programs. If you are interested in bringing your group to the park for an activity from a picnic to a guided hike, please call Chief of Interpretation & Resource Management, Caven Clark at 870/365-2790 or email at e-mail us.