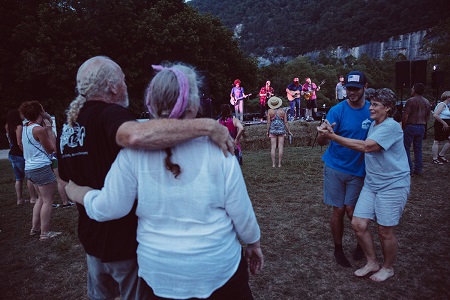 News Release Date:
June 19, 2017
Contact: Lauren Ray, 870-861-2570
The third time was the charm for this year's National Park Radio concert at Steel Creek Campground on the beautiful Buffalo National River. The concert, originally scheduled to coincide with National Park Week and Earth Day in April, had been postponed twice due to flooding.  
An estimated 600 people enjoyed the event on Saturday, June 17, which featured live bluegrass and folk music by the Ozarks' own National Park Radio. As concert-goers trickled into the area throughout the afternoon for the
7:00 PM
show, staff and volunteers from the Mt. Sherman Volunteer Fire Department, BUFFSAR, Buffalo National River Partners, and the National Park Service greeted and assisted with parking and traffic control. This is the second consecutive year that National Park Radio has played a concert at Steel Creek, and many in attendance
on Saturday
expressed that they hope for a third.
This event was made possible by the generous sponsorship and volunteerism of the Buffalo National River Partners, a 501(c)(3) organization dedicated to the promotion, appreciation, preservation and protection of the Buffalo River. Visit their website and show your support at 
www.bnrpartners.org
.