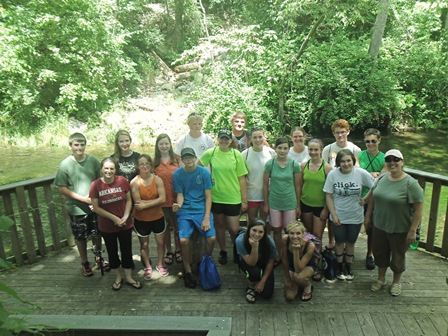 News Release Date:
July 1, 2014
Contact: Faron Usrey, 870-365-2764
Environmental education staff from Buffalo National River worked with the Ozark Unlimited Resources and Arkansas Game and Fish Commission to host the Second Annual Stream Ecology Camp at the Fred Berry Conservation and Education Center in Yellville, Arkansas. The Ecology Camp is an educational program for area, high school students that teaches the basics of stream ecology and scientific modeling.  For a full week, students were taught the fundamentals of water quality, macroinvertebrate and fish sampling and identification, with each day being full of hands-on and fun science experiments and modeling. Crooked Creek was used as a living laboratory in which to implement the scientific process and test simple but relevant stream ecology concepts.
Teams of student researchers were assigned a specific ecology question and independently implemented their own sampling methods and experimental design. On the final day of the camp, teams presented their findings using the latest in computer technology to a panel that consisted of high school science instructors and natural resource professionals.  The last evening of the camp, a university instructor from Arkansas State University presented the students with a program of career pathways in environmental science. Response from the students and parents was very positive and plans are being made for next year's camp at the Fred Berry Conservation and Education Center.