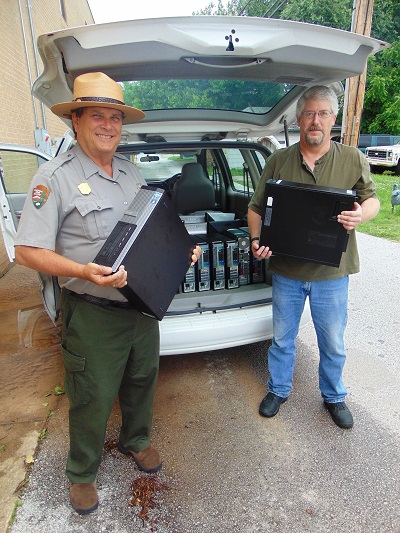 News Release Date:
September 15, 2016
Contact: Caven Clark, Public Information Officer, 870-365-2790
In 1996 then President William J. Clinton signed Executive Order 12999 authorizing and encouraging federal agencies to donate excess computer equipment to schools and community-based educational organizations. 
Buffalo National River recently used this authority to donate thirty-three used computers (along with monitors) to the Ozark Mountain School District which administers schools at Bruno-Pyatt, St. Joe, and Western Grove.
According to Property Technician Alma Hensley whenever usable computers are identified as surplus to the needs of the park area schools are contacted to gauge their interest in receiving the computers. This is the second consecutive year that the Ozark Mountain School District expressed interest and received computer equipment. 
David Pilgrim, Technology Director for the school district, says that the computers received from the National Park Service were used to build two virtual classroom computer labs that allow students to access online college courses and to replace outdated classroom computers in the elementary schools.
Jayme Jones, Superintendent of Schools, expressed his appreciation saying, "The computers that were donated by the National Park Service will allow the district to reallocate the estimated $35,000 to other areas of our Technology Department. The added computers will allow our students to expand their computer science knowledge and prepare for college or a career."
"We are very pleased that we can support our local schools in this way," said Buffalo National River Superintendent Kevin Cheri. "The National Park Service has a three- to five-year replacement cycle for computer equipment that is necessary to maintain the stringent information technology security standards of the federal government. It's a good feeling to know that the replaced computers aren't just going to the landfill. They're being put to very good use and furthering the education of our young people."