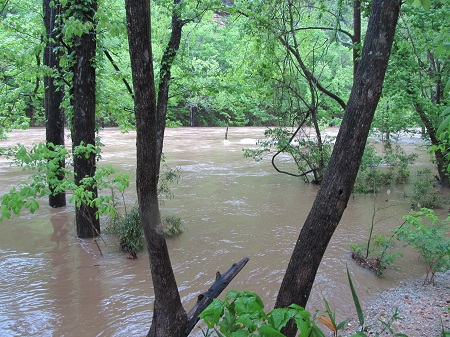 News Release Date:
April 26, 2017
Contact: Caven Clark, 870-365-2790
At approximately
11:45 am
today (4/26) notification was received by Buffalo National River dispatch two persons were in danger in the park's Upper District near Kyles Landing in Newton County (between Ponca and Erbie). One was reported safe on an upstream island, but without means of reaching either shore. The other was in the river downstream from Kyles Landing. 
National Park Service rangers responded to the area and conducted a "hasty" search by land on both sides of the river to quickly attempt to locate these individuals.
At about
2:30 pm
one Zodiac, one raft, and two kayaks were launched from Steel Creek to conduct a systematic search. In addition to the National Park Service Rangers, Buffalo National River Search & Rescue Team, other assets now involved include a team of AmeriCorps workers, Harrison Swift Water Rescue, and the Newton County Sherriff's Department.
Shortly after
3 pm
the individual upstream from Kyles Landing was located on a small island, as reported, and apart from being cold was in good condition. The search for the other individual continued until about
6 pm
and will resume tomorrow morning.
The incident occurred when a group of four men in four canoes decided to tackle the flood waters this morning above Kyles. Two canoes managed to traverse the distance safely but two overturned. The missing individual was last reported in the water across from the launch site at Kyles and has not been seen since.
While river levels are currently dropping slightly, the overall conditions for the search remain hampered by high, fast, and turbid water. Conditions are not anticipated to improve tomorrow in spite of the predicted gap in rainfall and very heavy rains are still expected beginning Friday.