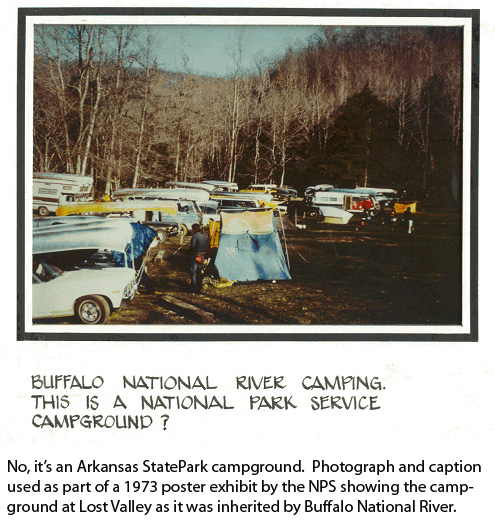 News Release Date:
June 16, 2011
Contact: Caven Clark, Public Information Officer, 870/365-2790
Lost Valley is open again since the 2011 April flood took out the bridge, scoured the trail, and created a number of unsafe areas. The Buffalo National River trail crew was diverted from other areas to conduct extensive repairs to the trail, including restoration of trail surfaces and steps that were heavily damage in the flash flood that swept down Clark Creek. The Youth Conservation Corps workers who began their season on June 6 were also detailed to this job. Trail improvements to Lost Valley had been under way since last summer and much of that effort was destroyed or damaged in the flood. New interpretive waysides scheduled to be placed along the trail to identify and explain natural and cultural features on the trail had fortunately not been placed or many of these would have been destroyed by the flood. Recent improvements to the amphitheater were above the flood and were not impacted.
Some things will take longer to fix, such as the handicap accessibility portion of the lower hiking trail. Certain segments of the trail may have to be redesigned and rerouted to accommodate erosion and avoid future flood events. The bridge over Clark Creek was a total loss and visitors will have to negotiate their way across the creek bed to access the trail from the parking area until funding is available for redesign and reconstruction. It will likely be moved to a more sustainable location further downstream from its previous location.
Approximately 3,600 visitors hiked the Lost Valley trail between December and May of 1983, the first year that these records were kept. By 1985 9,500 visitors were on the trail. Road counter statistics begin in 1995 with an annual total of 8,233 vehicles. The last count ending in December of 2010 showed over 23,000 vehicles traveling to Lost Valley. If you put an average of two people in each vehicle, which is probably low, the resulting total is 64,000 visitors last year!
Although mining and logging operations were undertaken here during the Civil War and into the first half of the twentieth century, these industries did not leave much of an imprint on this part of the valley. The first tangible record comes in the form of a farm, located in the area now used by the National Park Service as part of its Lost Valley Campground.
Harry S. Primrose owned a 160 acre parcel that included most of Lost Valley. Mr. Primrose homesteaded here in 1928 and was formally deeded the land by the Arkansas State Land Commissioner in 1935. Construction of the house began in approximately 1942-44 and was eventually completed in 1952. Lost Valley State Park was established in 1967, the Primrose house became the Superintendent's House, and the former pasture the camping area. The National Park Service formally acquired Lost Valley State Park for Buffalo National River in 1975 when it was transferred from the Arkansas Department of Parks and Tourism. State of Arkansas, Seventieth General Assembly, passed House Bill 719 which conveyed those portions of both Lost Valley and Buffalo Point state parks lying within the boundaries of Buffalo National River to the National Park Service. It was at this time that camping was moved across Clark Creek to its current location.
Engineers have assessed damages and are developing plans for bridge replacement and short and long-term repairs to the trail system. Full repair incorporating redesign, materials, and construction is a long way off with an estimated price tag of $250,000. The decision to restore, relocate, or otherwise make camping available will become part of a planning process involving public scoping and technical input. Buffalo National River recognizes the importance of Lost Valley, both as a popular day use area and as an overnight destination, but feels that this is the most appropriate time to reconsider its future.
Many people are concerned about the camping at Lost Valley. When Lost Valley does reopen, visitors will find that tables and fire grates have been removed and that camping is no longer allowed. This interim measure has been taken for several reasons, including the recognition of flash flood danger to campers, the loss of vegetative cover, and the overall poor design of many of the sites and the campground as a whole. Long-term evaluation of alternative road access, campground location, and other facilities will be on the planning table, but in the meanwhile the park will make every effort to maintain Lost Valley as a quality day-use area.