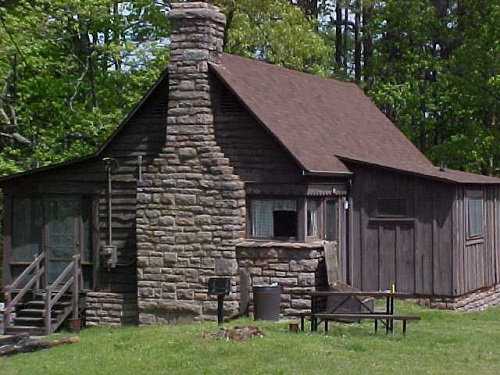 News Release Date:
April 29, 2016
Contact: Casey Johannsen, 870-365-2776
On Saturday, May 7, which will conclude National Tourism Week, the National Park Service and the Arkansas Welcome Center of Harrison will co-host a CCC Heritage Day at Buffalo Point to commemorate the 78th anniversary of the establishment of CCC Camp # 4733 and the important role that the CCC played in the development of the Arkansas State Parks and the tourism industry.
Buffalo River State Park was established by the State of Arkansas in March 1938. By May of that same year, a resident Civilian Conservation Corps (CCC) camp was established and the first enrollees arrived to form CCC Camp #4733. Between 1938 and 1942, Arkansas men built a garage, workshop, water and sewage systems, picnic tables, roads, a lodge, and six cottages complete with handmade furniture and wood-burning fireplaces. In March of 1942, all CCC camps were disbanded so the country could focus its efforts on World War II. The State of Arkansas finished the construction project at Buffalo Point and operated Buffalo Point State Park until the land was conveyed to the National Park Service in 1973, as part of Buffalo National River.
Leesha Miller, Manager of the Arkansas Welcome Center at Harrison –which is administered by the Arkansas Department of Parks and Tourism-- typically organizes a National Tourism Week event at the Welcome Center on Highway 65. But due to construction plans for a new Welcome Center, it wasn't feasible to hold an event onsite and she looked to Buffalo National River as an alternate location. "Buffalo National River draws over a million visitors a year to the area, so it was a logical place to celebrate National Tourism Week. It's a great bonus that we were able to tie in with the CCC Heritage Day which has a strong historical connection with our agency," Miller explained.
"The Buffalo Point Historic District is something we should all be proud of," said Buffalo National River Superintendent Kevin Cheri. "It was a true partnership effort from the beginning. Buffalo River State Park was established by the State of Arkansas. The National Park Service provided the designs and drawings for the structures, which were built by Civilian Conservation Corps workers –many of them local, many very skilled and talented young men who went on to defend our country in World War II. It's fitting that we tell their story and an honor to celebrate their contributions."
The schedule of events for CCC Heritage Day, which is open to the general public, includes a roundtable discussion with State Representative Kelley Linck and Richard Davies who recently retired as the long-time Executive Director of the Arkansas Department of Parks and Tourism; a historic furniture caning demonstration; mobile aquarium exhibit; a guided hike on the Overlook Trail; a ranger-led interpretive tour of the Buffalo Point Historic District and CCC cabins, and even free ice cream at the Buffalo Point Restaurant. 
For more information about the CCC Heritage Day and other events planned for the 2016 National Park Service Centennial, please visit the Buffalo National River website at https://www.nps.gov/buff/planyourvisit/calendar.htm.