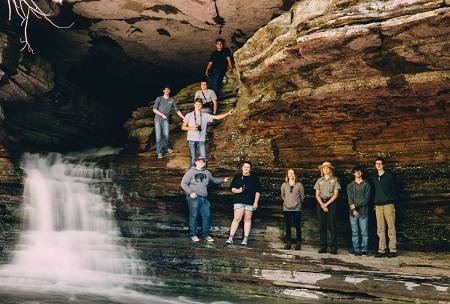 News Release Date:
June 5, 2017
Contact: Lauren Ray, 870-861-2570
Students from the Environmental and Spatial Technologies (EAST) programs across Harrison School District partnered with Buffalo National River for several exciting and interactive community projects this academic year.  
Harrison High School and Harrison Junior High School EAST students produced a number of videos to better prepare prospective visitors for their paddling and hiking trips at the Buffalo. Kelly Regan, EAST Facilitator at Harrison High School, says, "We are excited to work with Buffalo National River to bring the wonders of our local trails to our community in a fun and interactive way. We hope this will encourage people to make outdoor recreation a part of their visit to our area."  
This year, EAST students from HHS and HJHS began two Buffalo River "virtual tour" projects that use immersive 360-degree video footage to show the terrain and various landscapes along popular areas of the river and hiking trails. Once complete, these virtual tour videos will be useful resources for visitors who are planning and preparing for a trip to the Buffalo or for those with limited mobility who wish to experience more remote areas of the park. The plan is for these videos to be published and made available to the public on the Buffalo National River website and social media pages when they are finished.  
Harrison Junior High EAST students have produced videos that tell important stories like that of Eva "Granny" Henderson's life of perseverance and grit in the Buffalo River Valley and of BUFFSAR, a team of volunteers and first responders who perform search and rescue operations during community and park emergencies. The students have created promotional videos for special park events like the Iron Ranger Challenge and the Buffalo National River Biathlon and Trail Race. There's even a Buffalo River Ranger video game in the works that will encompass the values of Leave No Trace outdoor ethics, visitor safety, and resource preservation in a fun computer game for kids.  
Buffalo National River commends these students and teachers on a job well done and looks forward to resuming project partnerships in the fall.