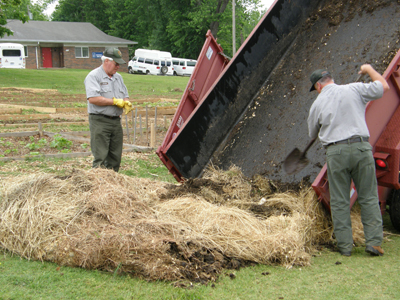 News Release Date:
May 23, 2011
Contact: Caven Clark, 870/365-2790
The City of Harrison and Buffalo National River have entered into a unique partnership to reuse and recycle horse manure. The direct beneficiaries include Buffalo National River and the Harrison Community Garden. The Harrison Community Garden, located on the north side of Highway 62/65, directly across from Edwards Grocery, consists of a partnership of the City of Harrison, North Arkansas College, North Arkansas Partnership for Heath Education, and local volunteers. The City of Harrison has been instrumental in helping the group get established.  

Buffalo National River's horse camp at Steel Creek offers park visitors an opportunity to camp with their horses and ride the horse trails in the park's upper district. There are 14 horse campsites available at Steel Creek. Campers are required to remove their horse's byproducts from the campsite into a National Park Service-owned dumpster trailer so that it does not end up in the river, and the NPS was looking for a location to dispose of the manure.  

The Ozark Mountain Solid Waste District stepped in and assisted in bringing together Harrison's Community Garden and Buffalo National River. Ozark Mountain Solid Waste District's role is to promote responsible handling of all solid waste, including the recycling of electronics, waste tires, and the recyclable material collected in the six-county district. The opportunity to help find a home for the horse manure collected at Steel Creek brought a whole new dimension of solid waste diversion to their repertoire of services.  

Knowing that manure would serve a much higher purpose providing nutrients to the soil in family gardens, this partnership is a win-win for everyone involved. Recycling comes in many different forms. Buffalo National River found a local home for a waste product generated by park visitors, the Community Garden has a constant supply of fertilizer, and the District was able to save landfill space by diverting material to where it benefits the community.