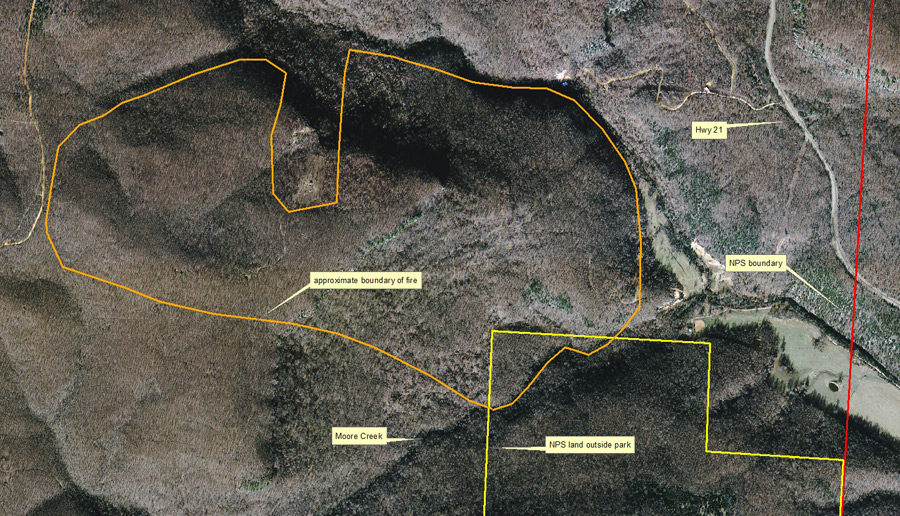 News Release Date:
March 14, 2014
Contact: Karen Bradford, Chief Ranger, 870/365-2740
Whether you smell it or see it, the presence of smoke in the air is generally widespread this week as a combination of prescribed and wildfires appear on the Ozark landscape. Yesterday (Thursday, March 13) there were a number of fires that contributed to the smoky environment. Buffalo National River had a 350-acre controlled burn at Slay Branch in Searcy County which remained contained and controlled according to plan. The majority of the smoke affecting Newton, Searcy, Marion, and Boone counties are attributed to multiple prescribed burns totaling 16,000 acres by the United States Forest Service as well as a number of authorized controlled burns on private property. But volunteer fire departments, Arkansas Forestry Commission, and National Park Service fire crews have been kept busy throughout with smaller burns that have easily gotten out of control with the persistent dry conditions and winds.
The most recent burn threatening Buffalo National River, called the Moore Creek Fire is believed to have started yesterday but was not identified until late in the day as its smoke was cloaked by that of other fires in the area. Very rough topography prevented deployment of assets last night. The current location of the fire straddles Moore Creek, west-northwest of Boxley Church (the church is not threatened). Cause of the fire is unknown. There are three homes and a stationary bus that are threatened by the fire.
There are currently six NPS, three Arkansas Forestry Commission (including two dozers), and three Ponca VFD firefighters assigned to the Moore Creek Fire and additional assets have been requested, not only for this blaze, but in anticipation of a generally very busy day. Asset availability is very limited in this part of the state given the number of fires. 
Please exercise caution with any fire both in and out of the park. In-park fires should be reported to our dispatch center at 888/692-1162; all fires may be reported using local 911.