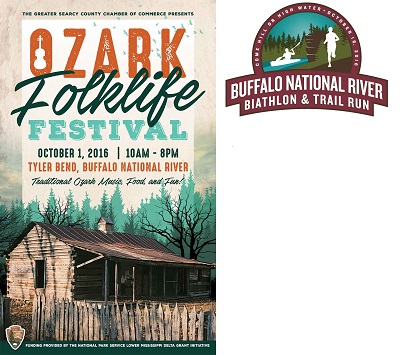 News Release Date:
August 22, 2016
Contact: Casey Johannsen, 870-449-4311
Buffalo National River Invites Everyone to #FindYourPark 
The National Park Service (NPS) invites visitors of all ages to join in the celebration of its 100th birthday throughout the year. With special events across the country, and free admission to all 412 national parks from August 25 through August 28, the NPS is encouraging everyone to #FindYourPark / #EncuentraTuParque for the centennial.
"August –our birthday month –will be a nationwide celebration of national parks, and we're inviting everyone to the party," said National Park Service Director Jonathan B. Jarvis. "We like to think that we look pretty good for 100, and with so many events and activities to commemorate this milestone, we hope all Americans will join us to celebrate the breathtaking landscapes and inspiring history in our nation's parks and public lands. Whether it is in a distant state or in your own community, there are hundreds of ways and places to find your park!"
Events at Buffalo National River
Ozark Folklife Festival
The Ozark Folklife Festival will take place onSaturday, October 1at Tyler Bend from 10am to 8pm. This Searcy County event will bring traditional Ozark artists and craftspeople together in the park for a day of musical performances and demonstrations to celebrate Ozark culture.
We welcome everyone to celebrate the heritage of the Ozarks. Hear the wisdom of the pioneering families, enjoy tapping your toes to old time music, and savor the delights of traditional mountain cooking.
There will be several musicians taking to the stage throughout the day at the Tyler Bend Amphitheater. Still on the Hill, Possum Juice, Rackensack Folklore, The Burlesons, The Michael and Jennifer McLain Band, Breez, Buddy Case, and Mark Jones will be on hand to deliver fun and folksy tunes. There will also be a picking square where musicians and visitors can take part in some informal pickin' and grinnin'.
Come and learn about the way life used to be in the Ozarks in the mid-1800s to early 1900s. There will be several demonstrations and displays in the Tyler Bend Campground. There will be an herbalist, lye soap maker, folk dancers, storytellers, old time children's games, flint knapping, dutch oven cooking, a blacksmith, dairy goat milking, a pre-1840s encampment by the Early Arkansas Reenactors Association, and many more demonstrators.
Finally, join us for some traditional Ozark food at the Tyler Bend Pavilion. There will be fried catfish, hushpuppies, pulled pork sandwiches, beans, ham, and cornbread. There will also be an assortment of desserts, including strawberry shortcake, chocolate rolls (a Searcy County favorite), and ice cream from Loblolly Creamery.
This one-day festival is sure to be a fun and educational time for all! Visit the Ozark Folklife Festival Facebook page at www.facebook.com/events/1077735842289082/?active_tab=post for more details.
Biathlon and Trail Run
If you are ready for a challenge then consider participating in the first ever Buffalo National River Biathlon and Trail Run on Sunday, October 16. The park will host the event at Dillard's Ferry. The biathlon, beginning at 9:00 a.m., will consist of a 6.8 mile trail run on the Buffalo River Trail from the Highway 14 Bridge at Dillard's Ferry to the river access point at Spring Creek. Once participants arrive at Spring Creek they will then paddle 4.6 miles in either a canoe or kayak back to Dillard's Ferry. Teams are welcome, but sorry, no relays.The trail run event will begin at 9:30 a.m. under the bridge at Dillard's Ferry. Runners will be challenged to a 13.6 mile trail race that will take place on the Buffalo River Trail between Dillard's Ferry and the river access at Spring Creek. Once runners reach the river access point they will turn around and run back to Dillard's Ferry to complete the race. All participants will receive a t-shirt and finisher's medal. Awards will be given based on age and divisions. Come out and join us for what is sure to be a fun and memorable day!Packet registration pick-up, a spaghetti dinner, and concert by the Mellow Mountain Band will be held at the Buffalo Point Campground the night before the race on Saturday, October 15. For more information, maps, and to register please visit www.dltmultisport.com. Call the Buffalo Point Ranger Station at 870-449-4311 or visit our Facebook page atwww.facebook.com/BNRBiathlon2016/for further information.