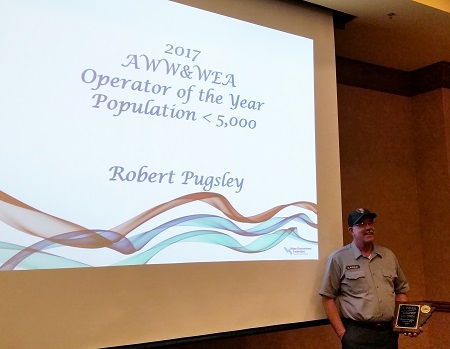 News Release Date:
May 4, 2017
Contact: Caven Clark, 870-365-2790
Robert Pugsley, wastewater treatment plant operator for Buffalo National River received the 2017 Wastewater Outstanding Achievement Award from the Arkansas Water Works and Water Environment Association. The award recognizes exceptional service for a utility serving fewer than 5,001 people. Pugsley, a public servant with 42-years of utility operator experience and a 6-year veteran of the National Park Service, operates the wastewater treatment facility at Buffalo Point, in addition to providing oversight for maintenance and management of the water and wastewater operations throughout the park, which includes two waste water treatment plants, three public wells and two park housing water systems. Currently he is serving as a key member of the team planning the development of a new treatment facility at Buffalo Point, scheduled to begin installation in the fall.  
"A key part of our park mission is to protect water quality in the Buffalo River and in the watershed," said Kevin Cheri, Superintendent of Buffalo National River. "Robert's efforts help the park ensure that our own operation contributes to this ongoing effort. We are proud that he has been recognized by his peers for his outstanding efforts."  
The award was presented at a ceremony on Monday, May 1 in Hot Springs, as part of the Arkansas Water Works and Water Environment Association's annual conference for participants engaged in the design, management, operation and control of water works systems.