Buffalo National River Celebrates National Park Week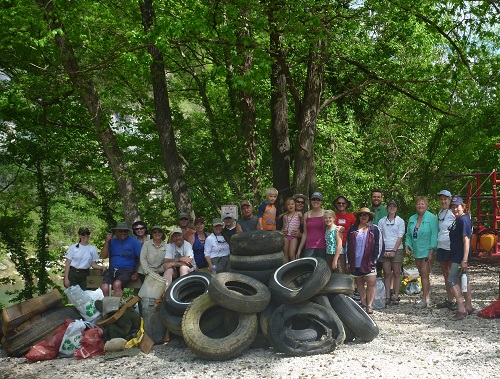 News Release Date:
May 4, 2016
Contact: Casey Johanssen, 870-365-2776
Celebrated each April, National Park Week is an excellent opportunity for visitors to explore amazing places, discover open spaces, and celebrate America's "best idea" –their national parks! This year, the National Park Service also is celebrating its 100thanniversary and Buffalo National River held several events to commemorate both the Centennial and National Park Week.  
On April 16 the park kicked off the week with a Standup Paddleboard Workshop by expert paddler Gabriel Gray at Ozark Campground. Gabriel led three workshops and talked to each group about proper planning for a multiday excursion, outdoor ethics, and safety. He introduced more than 50 people to a new way of floating, no doubt paving the way for many more paddleboards on the river in the future.  
The Northwest Arkansas Radio Klub also joined the festivities at Ozark on April 16 as a part of the National Parks on the Air Program. The amateur radio operators set up a ham radio station and made contact with other operators in over 40 states, 3 Canadian Provinces, and 6 other countries! The radio operators did a great job of promoting the Buffalo River to operators across the world.
On April 22, more than 20 volunteers celebrated Earth Day with a successful river cleanup from Pruitt to Hasty. While floating along 7 miles of river the volunteers collected over 40 tires, an old heater, and countless cans, bottles, and articles of clothing.
On April 23 the park hosted a free concert by Northwest Arkansas band, National Park Radio. This bluegrass/folk band drew an estimated 600 people to Steel Creek and put on an energetic show while using the Buffalo River and its dramatic bluffs as a backdrop.
Yoga in the Park was the perfect conclusion to a very busy week and a great way to recognize the first National Park Rx Day. Holly Krepps from Circle Yoga Shala led nearly 30 people in a 90-minute yoga class on the beautiful terraces at the Steel Creek rock house. Krepps led participants through a series of asanas designed to reverse the poor postures of our sedentary lifestyles.
Thank you to all who volunteered and participated in the events and we hope that everyone enjoyed the diversity of programs that were offered during National Park Week. To learn more about future programs and events at Buffalo National River please visit our website at www.nps.gov/buff or like us on Facebook.
Last updated: May 7, 2016