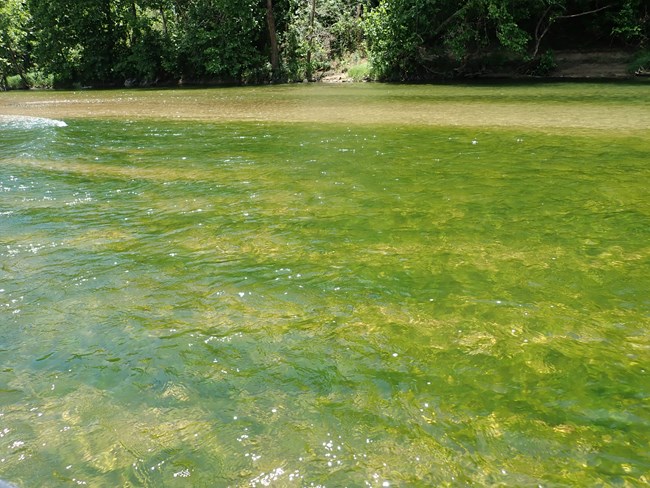 Algal Blooms

Blue-green algae occur naturally in many lakes and rivers and have been found in many parks of the country, including the Ozarks region. Algae are more abundant in summer and may appear as green or yellow streaks or scum on the surface of the water or as green globs floating below the surface.

Nice sunny days, warm water, and increased nutrients are the perfect recipe for algae to grow. Low rainfall increases the opportunity for algae to bloom, and increased lawn and agricultural runoff into waters can create ideal conditions for algae blooms. Some algae growth is important to a healthy ecosystem. Most species of algae are not dangerous.

However, some species of algae are toxic to humans, animals, and the environment. Harmful algae and the water around it can cause allergic reactions and illness in people and pets. Symptoms include eye and skin irritation, coughing, sneezing, itchy throat, watery eyes, rashes, abdominal pain, cramps and diarrhea. If you have a pre-existing condition, such as asthma, these symptoms may be more severe. Contact your doctor or veterinarian if you or your pet have any symptoms or sudden illness.